It seems impossible, but ALBA's latest RTD went from initial concept to the customer in just two weeks! Pamela McIntosh investigates how it was done.
In its continual innovation, ALBA has released their fourth pre-mixed margarita. But here's the kicker – it was designed, made and on shelf in just two weeks!
Yes. You read that right.
ALBA Chilli Margarita is available at Liquorland now, and features the same qualities as the ALBA Classic Margarita, but with the spicy inclusion of Kaitaia Fire's Chilli Pepper Sauce.
Michael Tutty and the very talented team at Brix alongside Rogan at hot sauce company Kaitaia Fire were able to plan and execute this Kiwi collaboration in record time, with reviews online calling it as good as you'd get served in a bar.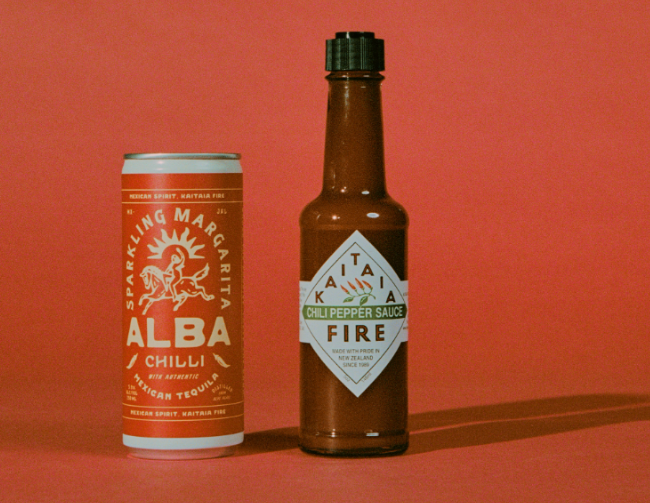 We didn't quite believe it ourselves, so asked Brix's Michael Tutty for the timeline:
Friday 13th October
Michael and the team at Brix – who makes ALBA – decided they wanted to launch a chilli margarita RTD. After a call with the owners, the idea to infuse ALBA's Original Margarita recipe with Kaitaia Fire Hot Sauce was thrown around, so Michael jumped on the phone with Rogan of Kaitaia Fire to suss out his thoughts.
The blokes had a chat over the phone before meeting up in person just a few short hours later. "We talked about the idea briefly, both loved it, and I got my hands on 2 litres of the hot stuff for product development." recalls Michael. The collaboration was in full swing!
By 3pm, the first ALBA Chilli Margarita samples were ready for taste-testing.... with a bunch of product made up for staff to take home and sample to friends.
It's still Friday... but Michael knows that labelling and packaging for the new product would need to be created in record time, so that product could be made commercially the next week.
ALBA's current packaging is 10-Pack boxes and for a chilli marg they felt a 4-Pack was more appropriate. There current supplier was unable to meet the deadlines so Michael called a friend, to find a supplier who already had an existing die available. After a call out of the blue, the new supplier was able to squeeze it into a print run, as long as they had artwork by Monday. Same goes for the product labels. Cue a weekend of design and hustle.
Monday 16th October
The boxing and branding artwork was finalised and sent to the printers. Final taste and heat levels were locked in.
140 kilograms of Kaitaia Fire Hot Sauce was made and sent to the manufacturer.
Michel makes calls to Someday Studio's to develop the social media strategy and launch campaign.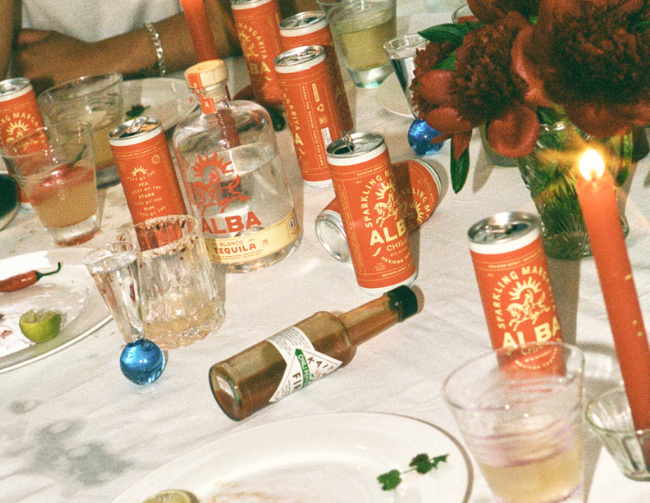 Wednesday 18th October
ALBA's new 4-Pack boxes were made and sent from Greymouth to Auckland in the nick of time for production.
Thursday 19th October
Press pass at the label supplier is ticked off with some small tweaks to the 'fire red' colour on the label, which arrives on-site the next day.
Everything appears on track for canning, with the production team at Brix brought up to speed rapidly, who embrace the challenge the awaits them.
Tuesday 24th October
Promotional photo shoots were executed, and the Sales Plan is now in full swing. Customers such as Liquorland we're given exclusive insight to the new product coming with stores placing pre-orders for immediate delivery on launch.
Friday 27th October
After clearance from the quality team, ALBA's hottest new RTD was hand delivered by the sales team via vans to stores in Auckland, with couriers assisting to get product nationwide on Friday 27th.
THIRSTY FOR MORE ABOUT ALBA RTDs?