Sacred Hill is releasing three new single vineyard wines, to be launched in stores next week
Crafting a single vineyard wine that balances the varietal, the soil and the climate is a rewarding challenge, one that Sacred Hill has risen to by launching a collection of three distinctive single vineyard wines.
Sacred Hill's new range includes a Hawke's Bay Chardonnay and Syrah and a Marlborough Pinot Noir, each richly textured with a flavour profile which can be traced directly back to the vineyard.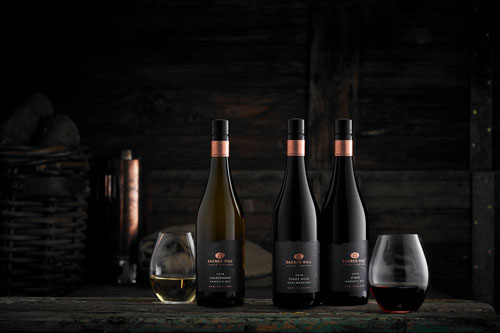 2018 Sacred Hill Single Vineyard Hawke's Bay Chardonnay
This textural wine offers aromas of grapefruit, spiced brioche, and toasted hazelnut, with subtle layers of gunflint and toasty vanilla oak. With a lingering aftertaste of lemon curd, yellow peach and toasty oatmeal biscuits, this wine is superbly balanced and well suited to pair with a wide range of foods.
Food matches: Roast chicken, pork or seafood.
Enjoy now or cellar for 5 to 7 years.
Winemaker Jack Cornes says: "The dry heat and excellent growing conditions of the season meant that the grapes were showing their perfect flavour profile at harvest. We know the quirky sub-climates of our vineyard well, and were able to pick our grapes at their absolute best. You can really taste the quality of the fruit in this exceptional chardonnay."
2018 Sacred Hill Single Vineyard Hawke's Bay Syrah
Harvested from the Deerstalkers vineyard in the Gimblett Gravels, this wine offers an aromatic medley of white pepper, salted chocolate and Black Doris plums, with these rich aromas leading to undertones of smoky tobacco leaf and dark floral notes. The palate offers fresh, dark wild berries, sweet forest fruit compote and flavoursome baking spices while succulent velvety tannins contribute to the long, elegant finish.
Food matches: Peking duck or barbecued red meats
Enjoy now or cellar for 5 years.
Jack Cornes says: "The 2018 season had the best possible start, with a hot and dry growing period and even less rain than last vintage. Our Syrah grapes lapped up the dry heat and the excellent growing conditions resulting in a lush Syrah with incredible flavour."
2018 Sacred Hill Single Vineyard Marlborough Pinot Noir
This rich Pinot Noir has a ruby-red hue, and is bursting with aromas of black cherries, vanilla, and strawberry conserve with complex undertones of wild herbs and forest floor. Vibrant and concentrated, this wine showcases the classic style of Marlborough Pinot Noir with immediate richness and supple, velvety tannins.
The long, hot Marlborough summer created a ripe, vibrant fruit profile with hand-selected parcels of fruit harvested during the dry, late vintage period, resulting in concentrated flavours that add texture to this wine. It was fermented in small batches, aged for 10 months in French oak barrels (25% new) and lightly fined and filtered before bottling.
Food matches: Venison, duck, quail or beef
Enjoy now or cellar for 5 years.
Winemaker Kel Dixon says: "Fortunately, the 2018 vintage delivered impeccable fruit which we harvested at their absolute best. This enabled us to create an exceptional Pinot Noir that is a true reflection of the vineyard."
Sacred Hill Single Vineyard wines are available from Liquorland from September 1, 2019.