These tips and tricks will help you get the most from New Zealand sparkling wine this festive season
Know what you're drinking: If only so you can show off at parties! Made with traditional Champagne and méthode techniques, New Zealand sparkling wines usually utilise a combination of chardonnay and pinot noir grapes. Offering great value for money, Kiwi bubbles are known for their fresh, zesty acidity influenced by New Zealand's unique maritime cool climate.
Lingo: Because Champagne influences much of modern sparkling wine, there are a lot of tricky French words to navigate when shopping for the perfect bottle of bubbles. Here are a couple of words you need to know. "Brut" – this means dry-style, as in not too sweet. "Cuvée" – refers to the first pressing of the grapes which is considered the best, rather like virgin olive oil.
Ideal drinking time: Try as you might to keep that bottle chilling in the fridge, you know it's going to be popped one Friday night when the lure of Netflix and Uber Eats is too great. And that's ok, New Zealand non-vintage sparkling wine is made to be enjoyed straight away, so there's no need to start a dusty cellar just yet.
Storage: Keep your sparkling wine upright in the fridge to help retain the bubbles and keep it away from damaging light.
Serving temp: Take your wine out of the fridge (and if you can resist temptation) wait half an hour before serving to help the aromas and flavours really shine.
Flavour match 1: There are many foods that match with brut-style bubbles, and our top pick this summer is Oyster Bay Sparkling Cuvée, a sophisticated example of a New Zealand sparkling. Ideal as an aperitif this wine also pairs beautifully with fresh seafoods like freshly shucked oysters, tempura or smoked salmon, and soft, rich cheeses such as triple cream brie or mascarpone.
Flavour match 2: Nothing beats a chilled rosé on a hot summer day, and this summer we are loving rosé bubbles. Our top pick is Oyster Bay Sparkling Cuvée Rosé which has all the fragrant strawberry aromas of a great rosé, with lively bubbles that add a refreshing bite to the wine. Again, this wine is ideal as an aperitif or is a match made in heaven with delicious, fruity summer desserts. Think chocolate dipped strawberries, summer berry tarts or even Christmas pavlova topped with fresh seasonal fruit.
Which glass?: Depending on what's important to you, there are a few options here. The traditional champagne flute is popular as it helps the bubbles to last for longer, and is particularly good with brut-style sparkling wines. Tulip shaped glasses are good for sparkling wines with heady aromas as the slightly wider bowl shape collects and disperses them better than a flute. Coupe glasses are popular at the moment for their Insta-factor, but their wide bowl shape does disperse bubbles more quickly – however they do look great and have the added bonus of making you feel like Humphrey Bogart, or Audrey Hepburn in Breakfast At Tiffany's.

LIQUORLAND PICKS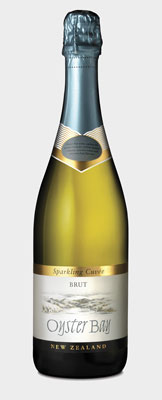 Oyster Bay Sparkling Cuvée
New Zealand's unique cool, temperate maritime influenced climate produces intensely flavoured grapes with zesty natural acidity, and this sparkling wine made from 100 per cent Hawke's Bay chardonnay grapes is a great example of that. Sophisticated flavours of lime, citrus and white peach are accentuated by a fine bubble and crisp finish with lingering fruit flavours. RRP$22.99 at Liquorland stores nationwide

Oyster Bay Sparkling Cuvée Rosé
Fragrant cherry and fresh strawberry aromas will lure you to an elegant and zesty sparkling wine that's a wonderful marriage of chardonnay and pinot noir grapes. Flavours of citrus, and soft red berry fruits are accentuated by a fine bubble and a crisp, refreshing finish. ?RRP$22.99 at Liquorland stores nationwide