From humble beginnings to international recognition, both Lighthouse Gin and its head distiller Rachel Hall have quite the story to tell.
What started in an old apple packing shed in Greytown eventually went on to become a coveted gold medal-winning gin at the International Wine and Spirits Competition (IWSC) in London. Named after the nearby Cape Palliser lighthouse, the gin brand's evolution included the appointment in 2014 of head distiller Rachel Hall, whose own journey is just as astonishing as the gin itself. Toast chats to her about being a woman in the industry, what it takes to produce an award-winning gin, what's on the horizon and, of course, how she best enjoys a drop.

Q: Tell us about your journey to being head distiller at Lighthouse Gin? How did you learn your craft?
A: I starting working at Lighthouse Gin helping out with the sales and office stuff more than 10 years ago. Lighthouse Gin actually started in the back of an old apple packing shed, which was being used to make apple juice, and the gin was tucked away in the back. I had grown up at the Greytown Hotel – The Top Pub (her parents' pub), and never really thought much about where gin came from or how it might be made so I was interested to find out more. The distiller at the time, Neil, was very happy to teach. Over time I starting doing more and more, like the bottling and going to the food shows and trying different samples of gin. Then in 2014, the shareholders decided to sell Lighthouse Gin and that's when I was asked to be the next distiller. Neil was more than happy to train me on the job over the next year. He and I have very similar palates when it comes to the gin, which is very important as a lot of things are done by taste. Neil still comes to visit from time to time and we will sit down and try some of the gins I've made and sample a couple of competitor gins. It's really nice to still be able to do that.
Q: As the first female head distiller in NZ, what do you think needs to happen to encourage more women into distilling roles? Why do you think there aren't more?
A: Maybe we need to back ourselves more. I know when I first started as the head distiller it was very male dominated and I was always worried I would say the wrong thing or come across like I didn't know what I was doing. I've learned over the years that a lot of distillers in New Zealand are self-taught, or have been taught by someone who is self-taught. There is nothing the matter with that and we all have our own ways of doing things. More women are starting to take up distilling, which is fantastic, and there are quite a few husband-and-wife teams as well. The New Zealand gin scene is really starting to boom so hopefully we will see more women coming through as distillers.

Q: What botanicals do you use in Lighthouse gin? And how do you decide on this?
A: Lighthouse Gin is made up of nine botanicals – juniper, coriander, almonds, orris root, cassia bark, cinnamon quills, liquorice root and freshly zested navel oranges and Yen Ben lemons (these are a true lemon that haven't been crossed with anything like a mandarin or grapefruit – it's a real 'lemony lemon!'). All the botanicals play a part in the final result. We are a London Dry style so we are juniper forward and you can't be gin without juniper. Also, most London Drys have coriander too. The liquorice root gives it a natural sweetness and the orris root binds all the flavours and aromas together so they don't disappear once the bottle has been opened. The fresh zest means all those lovely oils and juice go into the pot and are not lost when dehydrated, plus there's no pith to cause bitterness. It's important to find a blend that balances on the palate. It takes a lot of trials using different botanicals and then finding the right amount to add of each to make it work.
Q: What makes a good distiller? What qualities do you need?
A: For me a good distiller will have patience, a good palate and be able to keep learning. I'm always learning new things which is really cool. The palate, though, is key. You need to be able to pick up the different botanicals and learn to know what you want from them. Being able to balance them is really important, if you have too much of something it can take over and make the gin less approachable or it could be that there's not enough flavor so when it's mixed, it's getting lost. Also, you need to be able to recognise if your gin is harsh. No one wants a harsh gin.
Q: What part of the gin making process do you enjoy the most?
A: I love all of it. It's pretty special when you're packing the gin, all bottled and labelled, and you can say "I did this. I did all of this! I made it, I bottled it, I labelled it, I did all of it." I do a lot of long days and some days can be pretty full on and stressful but I just think about the big picture and it's what keeps you going.
Q: What is the most challenging part?
A: At the moment, it is keeping up with demand. More and more people are taking a liking to gin which is fantastic. So I've had to think of ways to be able to produce more gin without compromising it. It has meant a lot of hard work but it's worth it.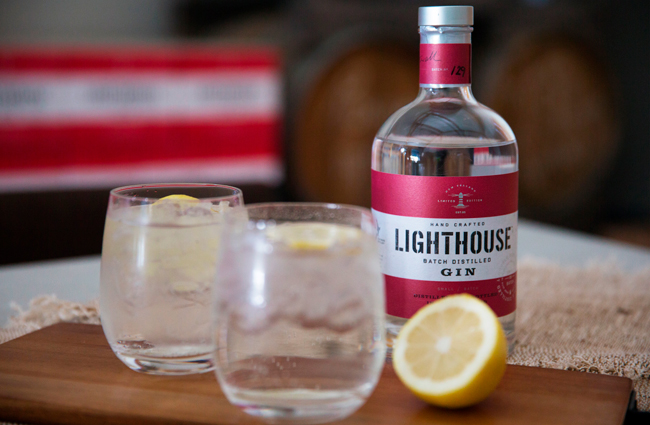 Q: Why do you think we love gin so much? Why do you love it?
A: I think because it's interesting. No two gins are the same and there is so much to choose from. You don't have to be a gin aficionado to appreciate a good gin. Also the mixers have improved too and if you don't like tonic you can easily find a lovely alternative.
I love gin because it feels like a reward, like I'm having something special. That long glass full of ice with a good amount of gin topped with tonic and wedge of lime – what more could you ask for!
Q: Tell us about your recent win at the IWSC in London and what that has meant for Lighthouse and for you personally?
A: I think for both Lighthouse and myself it was a true testament that we are making a world-class gin. It's not easy to receive such an accolade as there are so many gins out there and the London Dry category is the most hotly contended one. It makes you feel like you've actually made it! I knew I was making a good gin, now I can say, "Yes I do make a world-class, gold medal-winning gin".
Q: What is your favourite way to drink Lighthouse Gin?
A: Gosh, I love drinking lighthouse in a negroni, a martini and trying it in different cocktails. Recently I made a 'ginjito' ie I swapped out white rum for gin and added fresh pineapple with the fresh mint to give it more of a twist. But my absolute favorite way to drink Lighthouse Gin is in a good old G&T.
Q: Any future plans for the brand?
A: Yes, there sure is. We are building a brand new distillery at Te Kairanga Vineyard along with a new tasting room for Lighthouse Gin, Te Kairanga and Martinborough Vineyard wines. There is also going to be a restaurant that will look out over the valley and the vines. It's going to be an amazing destination, which is fabulous for Martinborough and the Wairarapa region.
Q: What would you like to say to prospective gin drinkers?
A: Don't be afraid to try gin even if you have tried it in the past and not liked it. Gin has come a long way and there are so many different varieties, there's surely something for everyone.