Now it's possible to enjoy Scapegrace direct from the fridge, mingled with natural artisan soda and tonic waters and topped up with a twist of citrus

Us Kiwis have a bit of a reputation for creativity. For putting our heads down, sticking our thinking caps on, and making brilliant things happen (with or without a reel of number 8 wire).
Recently, the two local lads from Scapegrace have been showcasing Kiwi ingenuity on the world stage, winning gold awards in London and San Francisco and becoming ever more creative in their ambitions.
Earlier this year, Scapegrace sent the fine spirits world into a frenzy with their colour-changing gin – a classic inky black in the bottle that swirled mesmerisingly into stunning pinks and purples when tonic was added. Most importantly of all, it tasted just as magical as it looked – dancing with the delicate flavours of carefully selected botanicals, including aronia berry, saffron, butterfly pea and pineapple. Check out the recipe below, to taste it for yourself.
Scapegrace's latest offering delivers surprise and delight of a different kind – beautifully blended pre-mixed drinks that promise perfection.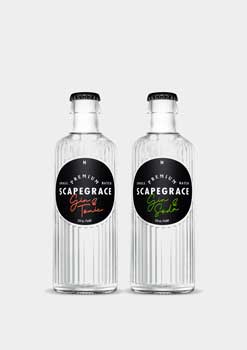 Featuring a tantalising twist of blood orange, Scapegrace Perfect Gin and Tonic delivers the taste experience you'd expect from a brand that takes craftsmanship as seriously as Scapegrace. It's wonderfully refreshing, and boasts an extremely low sugar content to boot. Scapegrace Perfect Gin and Soda, on the other hand, delivers the crispness of fresh lime, absolutely no sugar, and a simply superb summer drinking experience. The distinctive, award-winning flavour of Scapegrace Gin shines through in every sip – juniper, orange peel and earthy spices, finely balanced and powerfully aromatic.
The best pleasures in life come from unexpected sources, and that's certainly true of Scapegrace's Perfect range. It's the drink you never knew you needed – and what a welcome surprise it is.
The Scapegrace Perfect range is coming soon to a Liquorland near you.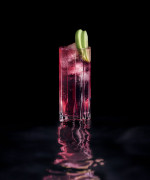 Scapegrace Black Signature Serve