The Glen Grant, the globally renowned and acclaimed single malt scotch, has released a whisky to celebrate 180 years of distilling – and it is as flavourful and exceptional as you could ever hope or expect from a Speyside single malt
It's a distillery with a story to tell - and how better to tell it than with a very special whisky, The Arboralis, created by the man who knows the brand better than anyone else in the world.
"The Arboralis has been created to commemorate 180 years of distilling at Glen Grant in Rothes in the Speyside valley," explains Master Distiller Dennis Malcolm, who is uniquely qualified like no other – not only did he take his first job at The Glen Grant at the age of 15; he was actually born at the distillery.
"Mum and Dad lived in a house at the entrance to the distillery – my mum was also born at the distillery, and her grandfather worked there, as did my father," explains Dennis. So when the decision was made to create this important single malt, Dennis knew exactly where he wanted to begin.
"The typical DNA of a Glen Grant single malt is always a light golden colour, a little bit dry and a bit fruity on the nose," he explains. "It's intensely fruity on the palate, with a nutty finish. Taste-wise it's dry, fruity and nutty on the finish. If I have those three flavours, I know I have a Glen Grant single malt whisky."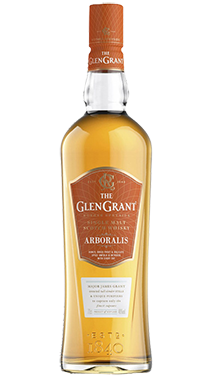 The Arboralis has all these flavours and more. Bright golden, floral and fruity on the nose, with honey notes followed by a delicate malty note followed by citrus lemon, The Glen Grant Arboralis tell a story from the moment you lift the glass to your nose. Ripe pears and dried apricots are blended perfectly with the long, lingering fruity notes, and just the perfect amount of delicate spice to make this a truly special whisky indeed.
"The fruitiness is very present; some will perceive orange, others more a lemon flavour – different people get different tastes," explains Dennis.
The Arboralis joins the family of The Glen Grant single malt whiskies, which includes The Glen Grant 10YO, The Glen Grant 12YO and The Glen Grant 18YO.