Japan is a culture of contrasts – purpose and ritual paired with vivid colour and captivating stories – both evident in the vision of Shinjiro Torii, founder of Roku Gin
At the age of 20, Shinjiro Torii had a dream – to craft quintessentially Japanese spirits that reflected the delicate palate of his people, and showcase them to the world.
In 1899, Shinjiro opened his first store, which would later become the legendary House of Suntory. He overcame incredible challenges and numerous hardships to bring his dream to life, eventually launching his first Suntory creation – Hermes Gin – in 1936. Shinjiro and the Suntory team continued to distil and dream – working hard, honing their skills, and eventually developing their own multiple distillation process to bring out the flavour of their ingredients.
Roku, which means 'six' in Japanese, represents the pinnacle of Suntory's art. Beautifully intricate, it has a smooth and silky texture with myriad flavours that speak delicately of Japan – cherry blossom and green tea on the nose, a traditional gin taste in the base, and top notes of zesty yuzu and spicy sansho pepper.
Roku contains six unique Japanese botanicals from the very best growing areas of Japan, harvested in accordance with the Japanese tradition of 'shun' – the practice of enjoying something only at its very best.
But Roku also contains something much more special than that – a century of dreams.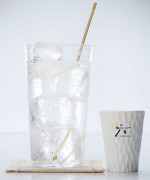 Japanese Gin and Tonic