A chance meeting at sea led Soren Crabb from being a cruise ship navigator to the world of gin. It was a journey that ultimately returned him home to New Zealand, where he now runs a craft distillery
It's not hard to notice that Soren Crabb is a bit of a romantic at heart. The gentle Kiwi has a playful spirit that has encouraged him to follow his dream and inspired some of his most successful gins to date.
Soren was a ship's navigator on international cruise lines when he started dating a girl who introduced him to a gin cocktail.
"Suddenly, I went from drinking rum to drinking gin. It totally opened my eyes to the world of gin – the different things you can do with it and the different flavours. I was really lucky to fall in love with this newfound spirit," says Soren, head distiller and owner of 1919 Distilling.

A NEW DIRECTION
The dream of creating a product that embraced the spirit of New Zealand was born, and after a few visits to craft distilleries throughout the United States, the pieces came together. Soren had long wanted to return home to New Zealand, and when the opportunity came to secure a space in a building in which to make his products, he took it.
"I was sitting in a bar in Juneau, Alaska, in 2017 when it all fell into place; I found the building that would become 1919 Distilling. I spent a year doing research and development before coming home and launching my first product in 2018."
A few years on, 1919 Distilling has become one of New Zealand's leading craft gin distilleries, available at Liquorland nationwide. "I remember nervously walking into Liquorland Forrest Hill (on Auckland's North Shore) to pitch 1919," says Soren. "Since then, we've developed an amazing relationship, and they have supported us every step of the way. Liquorland are absolute legends."
If it all sounds a bit romantic and idealistic so far, underneath it all is a commitment to quality, methodology and authenticity that reflects his years of discipline at sea.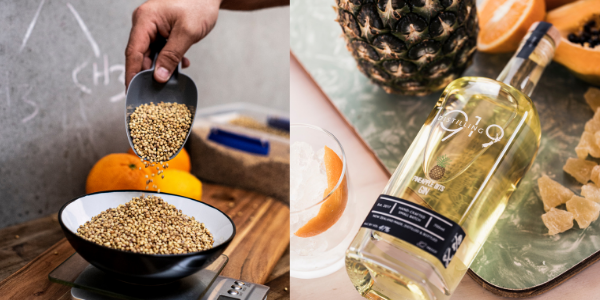 BUILDING A BRAND
"I think I bought every single book on Amazon and online that I could about distilling, read them cover to cover, read every blog, every forum I could find. I learned to make a good neutral spirit, which was palatable and enjoyable. I felt if I wasn't making my own base spirit for the gin, then I was missing about 80% of the job." Although 1919 now buys in its base spirit, it is still made from molasses in the same way Soren learned to make it himself, ensuring it's the best quality.
The same amount of time and effort went into finding a name for the brand. "I feel really sorry for parents. Trying to name your children must be horrible because I was going for weeks trying to come up with a company name and a brand name."
"It finally occurred to me at about 10:30pm, a cup of coffee in one hand and a whisky in the other, pulling my hair out. I was deep into the New Zealand archives and discovered the most pivotal moment in New Zealand's prohibition history happened in 1919."
Soren chuckles as he recalls how the Prohibitionists were already celebrating and confident they had the votes until the returning World War One soldiers' votes arrived on the ships. "Those special votes ended up overturning the referendum by 0.3%, and New Zealand's alcohol prohibition never went through. It's a bit of tongue-in-cheek for a distillery name."
The busy distillery is overseen by Soren and Dram, the German Spitz distillery dog who supervises all activity at the Auckland distillery. Rounding out the team is assistant distiller Erin, who discovered a passion for distilling while travelling Scotland in a van, and pouring pints.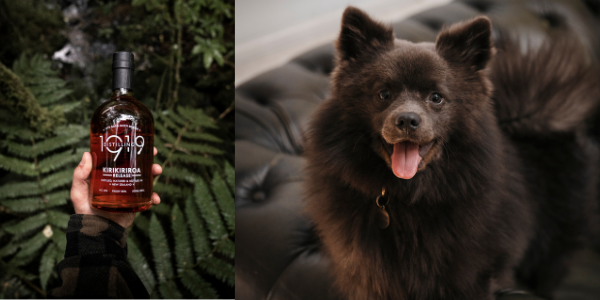 THE CHERRY ON TOP
One week every year, in the height of summer, you'll find the doors of the distillery wide open and the scent of ripe cherries filling the air.
"I love cherries. I can't get enough of them in summer. They're delicious. In cherry season, we buy about 800kg of cherries and one by one, we remove the pit, slicing them in half and then put them on a dehydrating tray. It takes us about a week and it's safe to say we're all over cherries by the end of it. It's the one week of the year that I question my past choices."
It's not just mānuka honey or cherries that bring New Zealand to life. Originally designed for a bit of limited-edition Kiwiana fun, 1919's Pineapple Bits Gin was inspired by the Kiwi treats Soren would take on the ships to battle homesickness.
Juicy, tropical and ripe pineapple and dark cacao notes bring the iconic treat to life in a delicious summer gin. It was so popular that it's become part of the core 1919 Distilling range and a unique Kiwiana annual release happens each summer. This year's chocolate-fish inspired release is sure to be a popular flavour sensation.
It's a wild road and one Soren still has to pinch himself about sometimes. "Giving up a stable job to chase a dream was one of the hardest decisions I've ever made," he says. "It hasn't always been plain sailing, but I'd do it again in a heartbeat. For 10 years, I missed so many special events while I was at sea; now, I can work and see family. As a small-business owner, the work is never done, but it's this challenge that keeps me expanding 1919. We're available in New Zealand and Australia now. Who knows what's next?"
WORDS TASH MCGILL