A love of the New Zealand party scene and staying healthy led to the creation of a thriving business for this Auckland couple.
Nobody knows the party scene as well as those who are in it. Holly McGrath and her partner, Daniel Benoy, loved spending their free time going out with friends to parties and festivals – but they couldn't find a drink that suited their lifestyle.
"Back in the day, Dan and I were partying a lot, but unless we wanted to take a bottle of vodka and separate mixers to parties or drink RTDs that were full of sugar and additives, there was nothing available. The 'better for you' category was going strong in the food world, but not in the alcohol market," says Holly. "We wanted something that had no additives and had low or no sugar or carbs, and it didn't exist."
With Dan working in marketing and Holly full-time in fashion, the pair had saved up a decent chunk of money for their OE, but in 2016, they decided to use it to start a business. "It's not something we'd ever considered – we didn't even know if it was possible to make an alcoholic drink with no sugar, additives or carbs," says Holly. After consulting a food technologist, the first Clean Collective drink came to life in 2017 – a 5% ABV vodka-based Mandarin and Lime Mojito.

Holly and Dan (above) say that they basically made drinks for their own target markets – and it worked!
"We wanted to make something fruity and a bit unexpected, but because we were working in such a new area of zero sugar and carbs, it took us about eight months to find a flavour we felt really worked," explains Holly. She and Dan started knocking on doors, getting stores to taste their drink – and the results were extraordinary.
"We sold our first production run of 30,000 bottles within four weeks," says Holly. "We had one product and one flavour. It was a bit of a shock, to say the least."
Before long, one flavour became four, and in 2019, Holly and Dan created Rinse, a 6% vodka/soda low-sugar RTD. They sold two production runs of 40,000 cans within two weeks. Rinse now has four flavours and is the official drink of Rhythm & Vines for the third year running. "The response has been amazing," says Holly.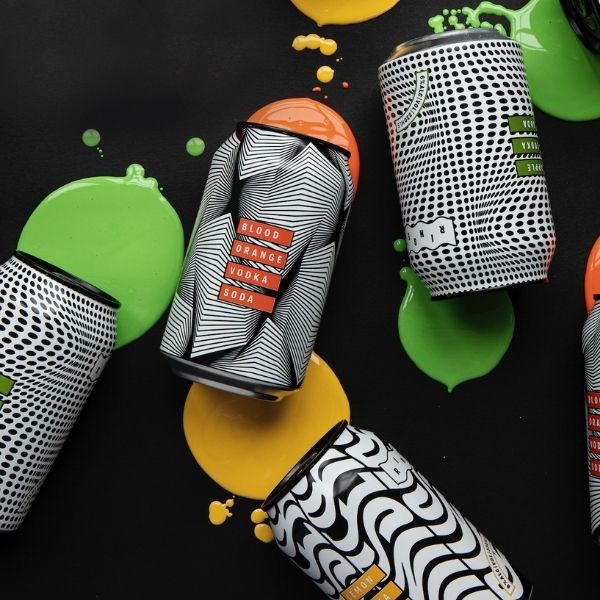 "Seeing our drink at R&V – a festival we'd been going to for years – was a real pinch-me moment."
The company has grown from two to a staff of nine – including Holly's dad, David McGrath, in sales, and Holly's step-mum, Rebecca Chalmers, in finance. It's a meteoric rise for any business – a success Holly puts down to meeting demand.
"People were looking for a healthier option in alcohol, and something they felt attracted to. Clean Collective packaging is feminine and beautiful, while Rinse's edgy graphics stand out – it's one for the guys. Basically, Dan and I made drinks for our own target markets – and it worked."
WORDS CATHERINE MILFORD.