Hold on to your tastebuds, it's our RTD Countdown To Summer! Some new, some tried and true – all totally delicious!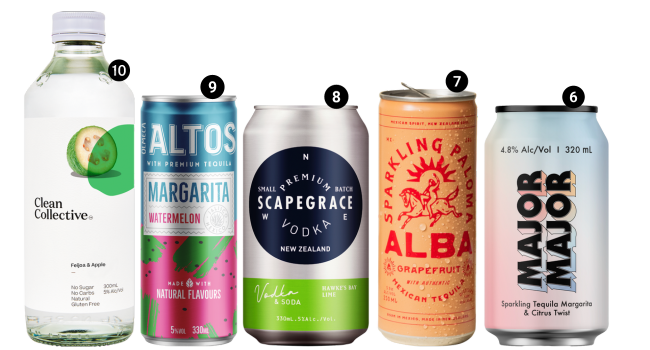 10. Clean Collective Feijoa & Apple w
ith Vodka

With no sugar, no carbs and no gluten, this drop has beautiful aromatics from feijoa and that crisp, refreshing and familiar taste of apple. You'll be back for more.
Made with natural flavours and Altos premium tequila (which is worth a try too, if you haven't already), this slim-line can's contents is just as refreshing as the first bite of fresh watermelon on a hot day. Ahhhh!
Scapegrace Distillery's hand-crafted premium vodka RTDs follow the same craft credentials that are instilled into its luxury spirit stable. This real, distilled, hand-crafted vodka combined with 100% natural extracts is a crisp and refreshing option.
Sweet, sour, a little bitter, and seriously refreshing. Alba Sparkling Paloma is a zingy alliance of tequila, grapefruit juice, Mexican limes, sparkling New Zealand water and a touch of salt.
Don't let the pretty can fool you, this is a seriously good margarita with just the right amount of citrus. Add nachos and a sombrero – and let the good times flow!

Made by the rum brand we all know and love with the addition of sweet watermelon flavour and a squeeze of citrus, this Barbie-pink and gold can gives carefree, island-time vibes. And we're on board!
With an initial subtle dryness that balances with a lingering lemon squash finish, this yuzu RTD is the perfect blend of refreshing and deliciousness. Using locally cultivated yuzu from an orchard in Levin, New Zealand.
Whether you're spending time kicking back with friends at a BBQ, picnic, or at the beach, Smirnoff Soda is the perfect addition to your summer days. Made with signature Smirnoff vodka, peach and lime flavours and soda water – with less than 2.5 grams of sugar per 100ml. Enjoy cold from the can.
You can't fake passion, but you can put it in a can. Both sweet and tart, this alcoholic but non-carbonated ready-to-drink mix includes the subtleness of vodka as the base spirit, which allows the flavour of iced tea and passionfruit to shine. Cheers!
1. Clean Collective Pineapple With Vodka
Another gem from Clean Collective, this vodka-based RTD has everything you need and nothing you don't. Much like the can design itself (#minimalvibes), this great tasting beverage is made with a less is more approach – you'll find no sugar, no carbs and no reason not to love it.
Main Image: intstagram/@majormajor.nz