These real-fruit and vodka seltzers are set to be a hit this summer, but who's behind the taste, the cans and the characters?
Greenhill Seltzers founders Jamil Eisele (above, right) and Sam Bulman (above, left) were schoolmates in Motueka Valley (near Nelson) before Jamil headed to Otago University and Sam ventured into the Air Force. Both outdoorsy blokes who enjoyed seltzer (but were yet to taste a drop they really loved), they set themselves a challenge to make a low-sugar seltzer that tasted awesome.
They got to making drinks and focused on the great taste rather than flashy marketing. "Just a couple of guys giving it a go" and working hard to chase a dream. Read on to learn about how their ballsy idea became a business.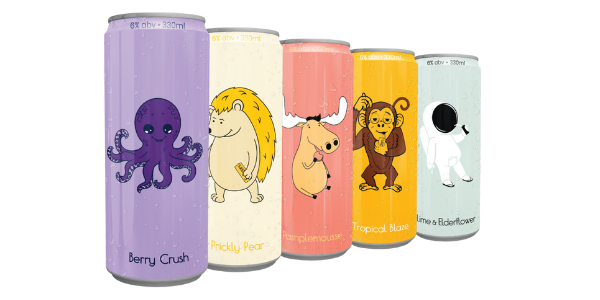 Where did the idea to make your own seltzer come from?
One day in 2019 we came to the realisation that most of the alcohol we'd been drinking for the past few years wasn't particularly nice and was full of sugar/artificial stuff. The idea of starting a drinks company seemed fun and exciting. We decided if we could make a drink that tasted better than anything else we'd tried, while being natural and low in sugar, we'd give it a crack.
We didn't do a heap of market research. Instead, we thought we'd make a drink tastier than the other options out there and people would surely buy it.
But making a great drink was hard. We had to find the best quality ingredients, while steering clear of cheap, artificial ones. We tried dozens of different spirits, countless fruit extracts and mixed up hundreds of formulations to be certain our drinks were smooth and refreshing, while tasting like the fruit they're made of.
All of our drinks were created in our own room or our parents' kitchens with Sodastream bottles and various samples of juice.
What was your first product launch?
We launched our first product – a Mixed 9-Pack – at the beginning of 2019. Unfortunately we did essentially everything wrong, such as the packaging format and logistics (which consisted of us driving around the country delivering drinks out of our car boots!).
We also had no idea how to sell anything, but luckily stores like Liquorland gave us a shot. It was a steep learning curve but we got plenty of support from customers which gave us the opportunity to improve and evolve our drinks into what they are today.
The great taste of our drinks has mainly spread by word of mouth and we continually focus on making the best tasting drink on the shelf.
We love the characters on your cans – a spaceman, moose, monkey, hedgehog and octopus. How did these come to be?
We taught ourselves design on Adobe Illustrator and did the packaging ourselves (mainly because we couldn't afford a designer), which meant our packaging didn't look very good and didn't stand out.
When we moved from bottles to cans we had the opportunity to redesign our branding and go for a new look; we figured that our cans needed to look different from others and for some reason we put a space man on our first can. We're still not quite sure why it ended up there, but it led to the rest of the "zoo".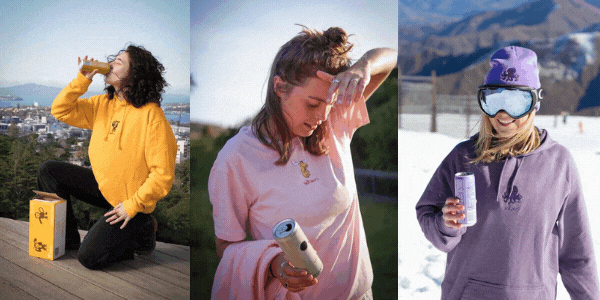 Above: Greenhill Seltzers' characters appear on their cans and on their merchandise.
Have you had any business mistakes or learnings?
Definitely – actually, far too many to count! As they say, "it's easy if you know how". But unfortunately, we didn't know how!
Right off the bat we messed up the label format on our first product which resulted in us having to hand-label 30,000 bottles. We got excise tax rates wrong which meant we were losing money on every box sold. We ordered a few hundred thousand bottle caps and then immediately switched to cans... There's a whole lot more on our instagram stories if you feel like a laugh.
And you give back too, via Marine Grants?
Yeah, we donate at least 10 percent of our profits to marine conservation projects. It took a long time before we made any profit, but earlier this year we were stoked to be able to give a round of grants totalling $15,000, mainly to young Kiwis working in marine conservation. These projects include looking after native penguins, kelp forest restoration, coral research, Antarctic mammals and education projects around New Zealand.