If you can't experience Byron Bay in person, then this is the next best thing.
If you've been to Byron Bay in New South Wales, you'll know that it's not just a place... it's a vibe.
The sublime coastal hotspot – which sits on Australia's most easterly point – has been long known for its beaches, surfing and creative endeavours. But did you know it also has a namesake brewery that has just launched sparkling cocktails?
Much like the local festivals, artists and designers of the region, Byron Bay Brewery is a creative company that isn't afraid to push the boundaries. Since 2008 they have launched innovative beers and seltzers with huge success, and now we get to enjoy the fruits of their labour, with the introduction of the sea blue and zesty lime 10-pack boxes you've probably noticed at your local Liquorland.
"The launch of Sparkling Cocktails was a natural fit for Byron Bay Brewery and is a great fit to extend to Kiwis too," says Kate Goodwin, RTD Innovation Lead at Lion New Zealand. "We recognise the growth of RTDs in general, but these two cocktails in a can address the demand for mindful alcoholic beverage options with lower sugar in a tasty pre-mixed format."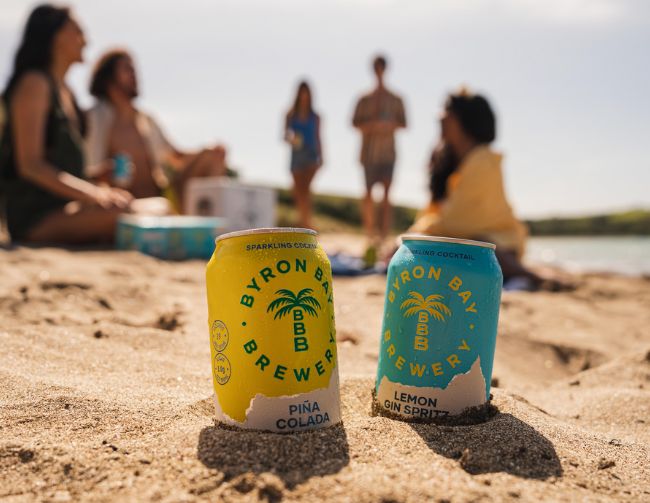 Hard Yakka
Mimicking full-strength cocktails on a soda base is no easy task, says Kate. "Bringing the right balance of flavour and mouthfeel that you would expect from a cocktail into a can is quite difficult (especially the creaminess of a Piña Colada)."
But the hard work paid off. "Results of our initial consumer research delivered results way over our benchmarks, and it's amazing to see how well our two launch cocktails – Piña Colada and Lemon Gin Spritz – have been received. "It's always nice to see someone's face light up when they try something for the first time, and we have lots more flavours and future innovation in the bank!"
Good Vibes
A goal for Byron Bay Brewery is partnering with music festivals, artists and fashion designers. The team was thrilled to extend that plan in Aotearoa too, having been at Splore Festival earlier this year.
While Byron Bay Brewery has a strong base of Gen Z and Millennial customers, Kate says that thanks to the unique flavours with bold and modern playfulness, the drinks are a refreshing and convenient option for everyone. "We know that these great tasting, refreshing alcoholic cocktails will in some way transport you to channel the eclectic interests, unique flavour and creative vibe of Byron Bay."
Enjoy these sparkling cocktails straight from the can, or if you prefer, pour the drink into a boho-style glass filled with ice. Totally chill.
WORDS Pamela McIntosh