Equal parts delicious and convenient, New Zealand-made Batched offers handcrafted bar quality cocktails straight from the bottle - with a simple shake and pour.
Shaking up quieter nights at home, the Batched range includes Espresso Martini, Gin Strawberry & Rhubarb Sour, Salted, Grapefruit Margarita and Whiskey Sour.
Never too far from innovation, the brand announces a new addition to its bestselling range. Coming to a top shelf near you is their highly anticipated Passionfruit Martini.
Made using New Zealand vodka with a hint of vanilla, the Batched Passionfruit Martini is enjoyed beautifully on its own, or for some additional fun, turn your martini into a Pornstar Martini by adding a shot glass of Champagne or Prosecco to sip alongside your martini.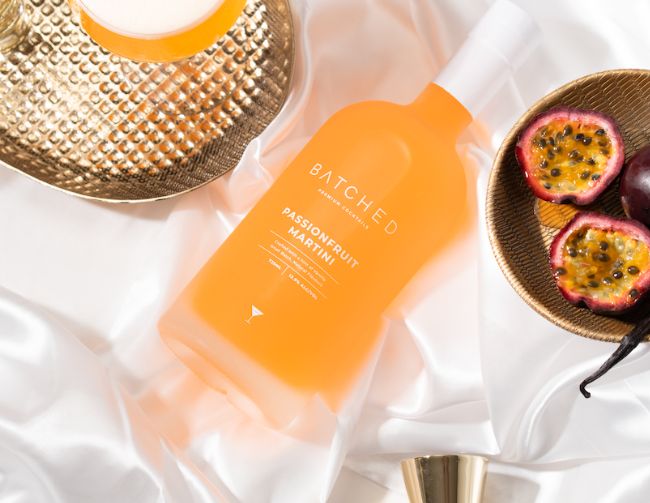 According to data from Google Trends, searches for Pornstar Martini have been steadily increasing since 2015, with a significant spike in interest in the past two years. Lizzy Yeo from The Premium Liquor Co – creators of Batched – says the Pornstar Martini, particularly in the UK, has become one of the hottest cocktails and now features on menus all over the country.
And, with such a catchy name, it's set to become big in New Zealand as well.
One reason for the drink's popularity is its versatility - the Passionfruit Martini can be enjoyed as a pre-dinner cocktail or as a dessert drink, and its sweet and tangy flavour profile appeals to a wide range of palates. The addition of a shot of Champagne or Prosecco served alongside adds a real element of fun and decadence – who would say no to two drinks in one?
With the new Batched Passionfruit Martini, you can create your own Pornstar Martini at home – without having to stock up on obscure ingredients. Just simply 'Shake & Pour' our Passionfruit Martini over ice and serve with a Champagne/Prosecco sipper. Add half a passionfruit for a show-stopping garnish.
Whether you're a seasoned cocktail enthusiast or a curious beginner, Batched Passionfruit Martini is sure to delight and impress.