The guest list is sorted, the venue's confirmed and the entertainment organised. Now you need to look at beverage supplies.
We know what it takes to throw a great event and will be happy to advise you on drinks selection, types of glassware for guests to drink from and other party necessities (don't forget the ice!).
There are a few factors to consider when working out how much alcohol you'll need to supply, if you are catering for drinks at your shindig, such as:
How many people are attending?
How long will the party last?
Are your guests planning a big night?
How much beverage variety do you want to offer?
What kind of party is it? (mix and mingle, formal sit-down dinner)
HOST TIPS
USE THIS PARTY PLANNER: Click here to work out how many drinks you need, then shop online using Click and Collect or in-store.
RETURN THE LEFTOVERS: If you over-order, Liquorland's Sale or Return* policy means you can return what you don't drink.
BE A GOOD HOST: Remember, take your host responsibility seriously. Ensure you have plenty of water, non-alcoholic beverages and food available. Make sure your guests are not overindulging, and that they have a safe way of getting home.

PUNCHING HIGH
A large statement bowl of punch makes a colourful addition to your table and is a fun, cost-effective way to get the party started.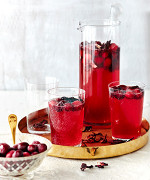 Cranberry Rum Punch