Big things are brewing in Hamilton this month as craft brewers, food vendors and top bands line up for the 2021 Great Kiwi Beer Festival
The annual Great Kiwi Beer Festival is one of New Zealand's favourite celebrations of the craft beer industry. This year, over 40 craft brewers, more than 35 street food vendors and a stunning live music lineup all take centre stage at Claudelands Events Centre in Hamilton on Saturday 13th March.
In association with Liquorland, the popular event features a who's who of Kiwi craft brewers, including Deep Creek Brewing, Brother's Beer, Garage Project, Abandoned Brewery, Fortune Favours, Emerson's, Parrotdog, Good George, Monteith's and Tuatara among many others.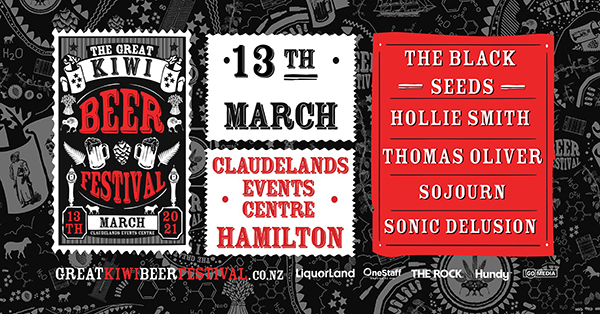 Set to be a real 'Beerstravaganza', you'll be able to take your pick from over 300 beers on tap; there are also dozens of interactive workshops and beer tasting seminars to really tickle your tastebuds. Join Andrew Childs from Behemoth Brewing to hear what it was like to open a brew pub in lockdown, and find out from Urbanaut's Simon Watson how they manage to continuously push boundaries in their brewery. Live music from The Black Seeds, Hollie Smith, Thomas Oliver and more keep the party going; while you can catch some of our top chefs cooking up a storm in our Cooking Theatre.
Presale tickets are sold out, but you can still pick up your Early Bird ticket here. This gets you a complimentary tasting cup and event guide, plus access to demonstrations, workshops, live entertainment...and of course, in line for some great beers!