It's no secret that us Kiwis love our beer. One talented Kiwi beer lover has gone a step further and shone a very bright spotlight indeed on New Zealand bartending, taking out the prestigious title of best Heineken® bartender in the world

Twenty-four-year-old Sarah Ewing of Gore has been named the best Heineken® bartender in the world, triumphing over 10 other top hopefuls at the global final in Amsterdam.
After winning the Heineken® Star Serve Bartender national finals in New Zealand last year, Sarah packed her bags ready to bag the win. It was the first time she'd ever travelled further than Australia, and she was up against formidable competition from national winners all over the world. Each was judged on their ability to perform the five steps of the Draught Quality pouring ritual: rinse, pour, skim, check and serve!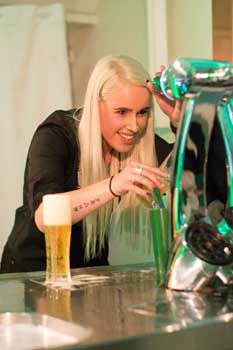 Part of the global Heineken Star Quality programme, the Global Bartender Final 2020 was created to celebrate the world's highest quality Heineken® draught skills. "Heineken® draught is about delivering consumers the perfect quality Heineken® beer, poured with the perfect foam head and the perfect taste. To guarantee this flawless quality draught, we continuously train bartenders all over the world to perfect their pouring skills," explains Mark van Iterson, director at Global Heineken® Design.
So it's official – if you're ever in Sarah's neck of the woods, you can pop into her local – The Thomas Green – and experience the world's most perfectly poured Heineken.
Right here at home.