As the weather cools and the days get shorter, our thoughts are turning to dark ales and Tuatara has two very special drops we can't wait to start drinking
While the crew at Tuatara strongly advocate for the enjoyment of dark ale varieties throughout the year, much as our food preferences tend toward casseroles and roasts over the cooler months, our beer choices lean toward restorative winter ales. These beers tend to be more balanced (between malt and hop) and full bodied rather than the summery light, fruity and hop-driven pales ales and lagers.
Rather than go into hibernation though, Tuatara Brewing Co. comes to life at this time of year. Planning and brewing can begin a year, or sometimes several years, ahead to stash away a dark, malty stout for a moreish treat. Such was the case with Tuatara's XV Imperial Russian Stout, which was brewed by founder and Master Brewer Carl Vasta to celebrate the Brewery's 15th birthday. With four years of bottle conditioning, the result is spectacular, earning it a slew of awards. Most recently placing in Dish magazine's "Top 12 'Strong Beers' Tasting Panel" (featuring in the April/May issue).
"It is steadily becoming one of our most consistently awarded beers. It just keeps getting better with age," says Vasta, who you can view lovingly caring for a special magnum of this delicious dark beer in the below video.
TASTING NOTES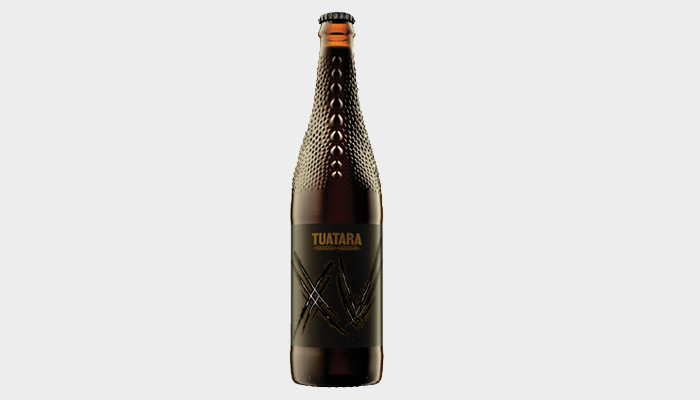 Flavours of dried fruit and brioche give way to rich chocolate notes, complimented by intense cacao aromas. Try matching Tuatara XV Imperial Russian Stout with a strong cheese like Kapiti Awa Blue or Kikorangi for a delectable combination. XV is available at Liquorland in 500ml bottles and as a bespoke limited-edition magnum, perfect for a special gift (or simply enjoy the pageantry of such a special beer and vessel).
COMING SOON: TUATARA BALTIC PORTER
Look out for Tuatara's newest addition to the dark line-up, a sumptuous Baltic Porter. Deepest darkest red with lots of silky, velvety chocolate on the palate, it has a very light coffee character and is beautifully weighted, rich and embracing. Due out at the end of April 2019, it's a brew that was originally released in keg during winter 2018, proving a popular drop with drinkers and earning a 2018 NZ Brewers Guild medal. "We thought we'd change up our dark beer option this year, from an American Dark Ale to this and see how it goes," says Vasta. "We're hoping it will kick on from its early popularity."
Enjoy Tuatara Baltic Porter with a grilled steak, and save a pour to enjoy with your chocolate self-saucing pudding afterwards. Available in 500ml bottles, it will be available at Liquorland stores nationwide.
If you are interested in purchasing an XV magnum, contact Tuatara directly. Available while stocks last.