Enjoy a day out tasting New Zealand's best cider!
Don't miss this year's NZ Cider Festival, held on Saturday 4th November, 2023 at Tomoana Showgrounds in Hawke's Bay.
It's the country's only dedicated cider festival, and there's ciders to taste and enjoy, along with all-day live music, local artisan food trucks and a dedicated kids zone. It's an event for the whole family!
Ciders from Good George, Zeffer Cider Co., Paynter's, Zeden Cider Co. and so much more will be there. Click here for the full list.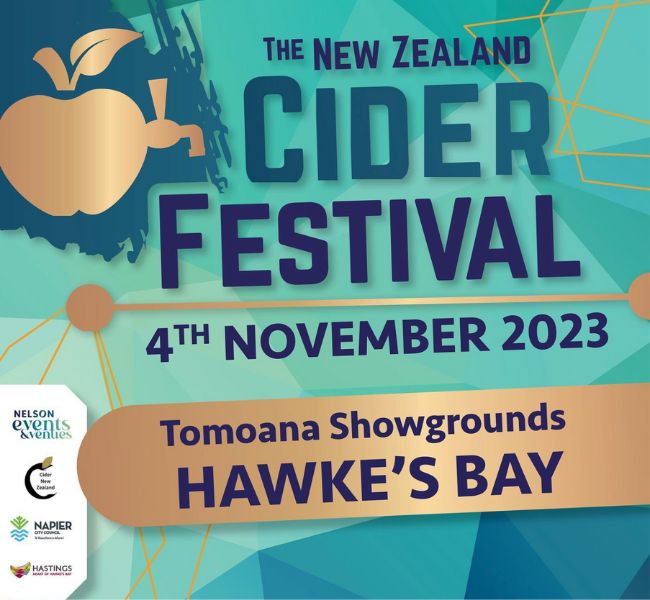 How do I get tickets?
Grab your tickets here before they sell out, and don't forget to follow the NZ Cider Festival on Facebook and Instagram for the upcoming cider line-up and more entertainment announcements.
What's the NZ Cider Festival about?
Cider New Zealand recognised the demand in New Zealand for a national festival to showcase these great drinks to the public!
Currently, cider sales outstrip craft beer, which is represented at a number of festivals around the country. So we thought why not have a similar celebration for cider!

The festival is an annual celebration of the diversity of cider, including both traditional and new-world varieties from around the country.
Festival attendees have the opportunity to sample a range of products from our cider makers in a relaxed and friendly festival environment that incorporates local artisan food and great entertainment.
What can we expect in terms of entertainment?
Ella Pollett Music is one of the first musical acts to be announced (with many more to come!). Ella is an 18-year-old award-winning singer/songwriter from Hawke's Bay. Ella won the solo/duo RockQuest in 2021 & 2022, and she was the opening act for Rod Stewart's concert at Mission Estate.