Inspired by the evolving tastes of Kiwi beer drinkers, Monteith's has released a new hoppier American Pale Ale
Not to be confused with the Mel Gibson movie about the American Revolution, the Patriot is now available in supermarkets, liquor stores, restaurants and bars around the country.
With a fresh West Coast take on the classic American Pale Ale, the epic combination of Pacific Jade, U.S. Citra, Mosaic and Galaxy hops in the brew gives the Patriot APA a distinct international character.
So, what's the difference between an APA and an IPA? IPAs, or India Pale Ales, are hop-forward pale ales, originally created to last lengthy shipping times, while APAs have a balance of malt and hops, with a lighter character and citrusy punch to them.

TASTING NOTES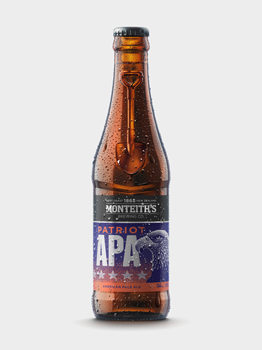 By dramatically increasing the level of dry hops in the Patriot APA to meet consumers' maturing taste profiles, and slightly decreasing the ABV to five per cent, it now delivers on hop aroma and flavour. The Pacific Jade hops give a light balanced bitterness, while the Citra and Mosaic hops give a combination of lychee, citrus zest, ripe orange, stone fruit and mango flavours, all balanced out with tropical passionfruit, peach and citrus notes from Galaxy hops.
A subtle but complex blend of American Ale malt, along with Gladiator, Munich and Crystal malts, gives Monteith's Patriot APA a cosmopolitan character. RRP$25.99, 12 x 330ml at Liquorland stores.