Heineken is helping to kick off rugby's biggest international event, the Rugby World Cup, by launching new limited edition bottles, featuring flag-inspired designs
To celebrate the rugby season, and help bring the upcoming Rugby World Cup 2019 to life in New Zealand, worldwide partner of the tournament Heineken® has just launched a number of exciting new products.
To celebrate the diversity of the teams competing, 12, 15 and 24 packs will display flag-inspired designs from the 20 countries participating in the tournament.
No matter what team you support, there are bound to be some iconic moments this season. For a fun new way to celebrate those 'champagne moments', Heineken® will be offering Kiwis a limited-edition magnum bottle (1.5 litres). Made from brushed aluminium and featuring a cork top, the new bottles are green with a Rugby World Cup 2019™ design and the iconic Heineken star.

For those watching the tournament at home with friends who are still keen for a draught beer experience, Heineken® will be offering limited edition Rugby World Cup 2019™ branded five-litre mini kegs. To operate, users can simply pull the lever on the top-mounted tap, and out comes fresh Heineken®.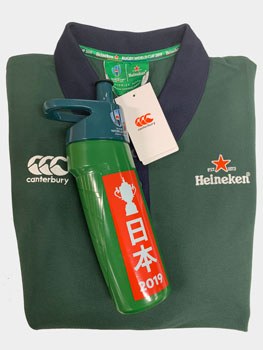 Heineken marketing manager Taylor Green said: "Rugby World Cup™ is a time where people come together to celebrate, so we wanted to launch some extra special ways for people to share and enjoy the event.
"The stylish country packs, along with the Celebration Magnums and the unique 5L keg, all with the delicious Heineken we all love inside, are the perfect way to share the excitement with friends while watching the matches during Rugby World Cup 2019."
The products are currently available at most Liquorland stores nationwide.