Get the jump on summer by stocking your fridge with spring's most refreshing tropical beers, as recommended by Alice Galletly
Fortunately, tropical-tasting brews are not hard to find in our corner of the world. Many New Zealand and Australian hops (Motueka, Pacific Jade, Galaxy, and Nelson Sauvin for example) give off major tropical vibes, bringing aromas like passionfruit, mango and guava to the party. Some brewers also amp up the tropical notes by adding fresh fruit or flavouring extracts to the beer, but it's amazing how much can be achieved with hops alone. The trick is to add the hops late in the boil, or even after the wort has cooled (a technique known as dry-hopping), which allows the hops to give off maximum flavour and aroma without contributing to the bitterness.
Here's a few recommended fruit-forward pale ales and IPAs, to kick off the warmer months.
Good George Tropical IPA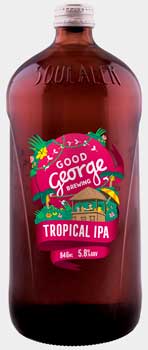 It doesn't get much more summery than this smashable golden IPA from Good George. Think a fruit salad bowl of ripe guava, passionfruit and mango with a clean, focussed bitterness. It comes in a 946ml squealer so you could share it with friends, but probably won't. RRP$13.99, 946ml
Emerson's Orange Roughy Tropical Pale Ale

This hazy amber pale ale gets its ripe tropical and citrus fruit salad flavours from a combination of Australian and New Zealand hops. Weighing in at a respectable 4.2% ABV, it's a quaffable drop that should please just about everybody. RRP$22.99, six pack 330ml
McLeod's Paradise Pale Ale


Hailing from Waipu in the 'winterless North', Paradise Pale Ale boasts massive tropical fruit flavours and a dry, refreshing body. The lush starfruit, citrus and papaya flavours are accompanied by sweet malt and perfectly balanced bitterness. It's yum, in other words. RRP$9.99, 500ml
Liquorland pick
Mac's Rockaway Pacific Pale Ale

An easy-drinking pale ale with punchy tropical and floral flavours and a light, clean bitterness. Refreshing and approachable, it's the kind of thing you could knock back on the sand after an afternoon snorkel. RRP$15.99, six pack 330ml
Food pairing
Fruity pale ales and IPAs will go with just about anything, from fragrant Thai curries to burgers and ribs. But since we've got a tropical theme going, why not go all out with smoky pulled pork and pineapple salsa tacos? Even if you can't actually fool yourself into thinking you're in Hawaii, you can probably still make people jealous on Instagram.