Pinot noir is fickle yet charming, temperamental but bewitching. These two Fickle Mistress pinot noirs might be hard to produce, but the end result is definitely worth it
The name 'pinot noir' is derived from the French words for 'pine' and 'black', alluding to the grape variety having tightly-clustered, pinecone-shaped bunches of fruit.
With a seductive aroma and alluring flavours, pinot noir grapes will perform only when conditions are perfect; cool climates, slow ripening. As one of hardest grape varieties to grow, climate is a major factor in defining regional styles for pinot in New Zealand. Otago in particular has established a worldwide reputation for its pinot noir, as has the Marlborough region.
Which brings us to our wine of the week. The team behind Fickle Mistress describe pinot noir as a minx and a devil in disguise – known to be notoriously difficult to cultivate, but with luck, love and perfect conditions, she will reward you with the performance of a lifetime. Read on to find out more about this budget-friendly wine.
Fickle Mistress Central Otago Pinot Noir

This wine is layered with black and red berry fruits, complemented by blossoming aromas of dark plum. Central Otago's cool climate consistently produces exceptional red fruit flavours of cherry, raspberry and redcurrant, but with concentration and length to match.
Fickle Mistress Marlborough Pinot Noir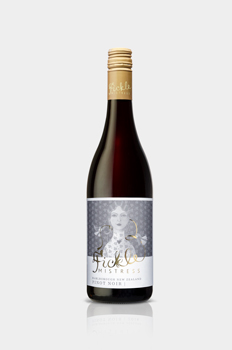 The nose starts with intense strawberries and perfumed notes, with complex oak and spice characters unfolding. The palate is consistently tightly structured, yet generous and mouth-filling, with well-integrated oak complexities supporting the primary fruit flavours. The rich palate finishes with a feminine elegance that is the hallmark of a truly balanced pinot noir.