Ahead of International Sauvignon Blanc Day, we take a look at the history of sauvignon blanc in New Zealand and put the spotlight on a crisp Kiwi classic
New Zealand sauvignon blanc has gained an outstanding reputation for itself around the world and has even been described as "arguably the best in the world" by UK wine critic Oz Clarke.
The first New Zealand sauvignon blanc was produced 40 years ago but it gained popularity in the 1980s when growers began producing a lot more of it, mostly in the Marlborough region. This was due to two major events. During a wine glut, the New Zealand government paid wine growers to rip up their vines and many took the opportunity to replace less popular varieties with sauvignon blanc ones.
The second event was an outbreak of phylloxera, which saw wine reproducers replacing their old varieties with sauvignon blanc and chardonnay, this time on phylloxera-tolerant rootstock.
Today, sauvignon blanc is produced all over New Zealand, but the most popular area remains to be the Marlborough region.
One particularly crisp wine produced in Marlborough, the Ara Single Estate Sauvignon Blanc, gleans its results from the area's weather – the vines get bright sunshine by day and more crisp, cold weather by night than any other parcel of land in the region. The two extremes create a micro-climate that translates into a vibrant, crisp glass of sauvignon blanc.

Tasting notes
The aromatic sauvignon blanc shows classic Wairau Valley blackcurrant on the nose, backed up with citrus blossom and hints of wild herbs. The palate is beautifully fresh, with lively acidity and grapefruit flavours. Tropical fruit flavours give a natural sweetness to the wine, which finishes crisp, refreshing and dry.
Food pairing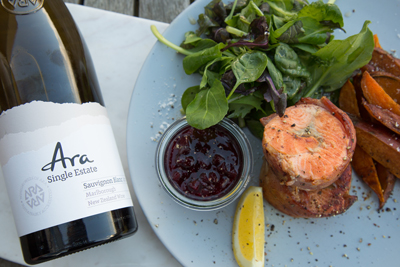 Another Kiwi classic to complement this one – whitebait fritters. Or the more traditional bacon-wrapped salmon.