There's an Italian revolution going on in Kiwis' consumption of sparkling wines...
Prosecco has found a permanent place on our drinks menu for its luscious, peachy – sometimes floral – flavours, versatility and price.
The sparkling Italian wine is perfect as a pre-dinner socialiser but works just as well for those special-occasion toasts, a dinner party or a cocktail. The most famous prosecco cocktail is a Bellini, for which the wine is mixed with fresh peach purée. See recipe below.
Prosecco is made by the charmat method, where the second fermentation takes place in a stainless-steel vat, rather than in a bottle such as méthode or champagne. It's made almost exclusively with white glera grapes in the Veneto and Friuli regions of northeast Italy.
Though sweeter than most champagnes, prosecco is still a dry- to off-dry variety. It has just enough sweetness, though, to make it pair well with salty foods such as charcuterie or a spicy pad Thai. If you want to double down on the Italian theme, a classic prosecco pairing is slices of melon wrapped in prosciutto.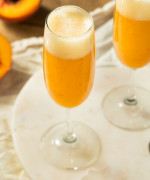 Prosecco Peach Bellini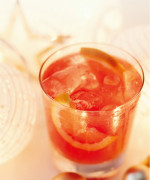 Aperol Prosecco Spritz
Prosecco Mojito