Church Road has celebrated a vintage of a lifetime with the release of their iconic TOM wines
The vintage of 2013 in Hawke's Bay has been heralded as "the vintage of a lifetime." A vintage that saw the driest conditions in 70 years and warmth that produced rich, fragrant wines designed to be enjoyed for years to come.
In celebration of this spectacular vintage, one of New Zealand's oldest wineries, Church Road, has celebrated with the release of three meticulously crafted TOM wines.
"Church Road TOM is only made in the most outstanding vintages and 2013 was certainly one of the best on record for Hawke's Bay", said Chris Scott, Church Road's award-winning winemaker.
TOM wines are named in honour of the late Tom McDonald – a great pioneer of New Zealand winemaking and the patriarch of the Church Road Winery for more than 50 years.
Beautifully crafted to show off the strength that 2013 brought, TOM wines are designed to age gracefully. Each bottle of Church Road TOM is individually numbered and hand finished, with its own presentation giftbox.
THE WINE
TOM Cabernet Sauvignon Merlot 2013 is powerful and rich, with layers of complexity. A fusion of dark fruit flavours, floral spice, vanilla and cacao, it's a drop like no other. Winemaker Chris Scott says the 2013 is "unquestionably our best TOM Cabernet Sauvignon Merlot to date."
TOM Chardonnay 2013 is complex and finely textured, with aromas of citrus, white peach and fresh fig with layers of toasted nuts and hints of smokiness. The palate is structured, with seductive fruit richness balanced by fine acidity.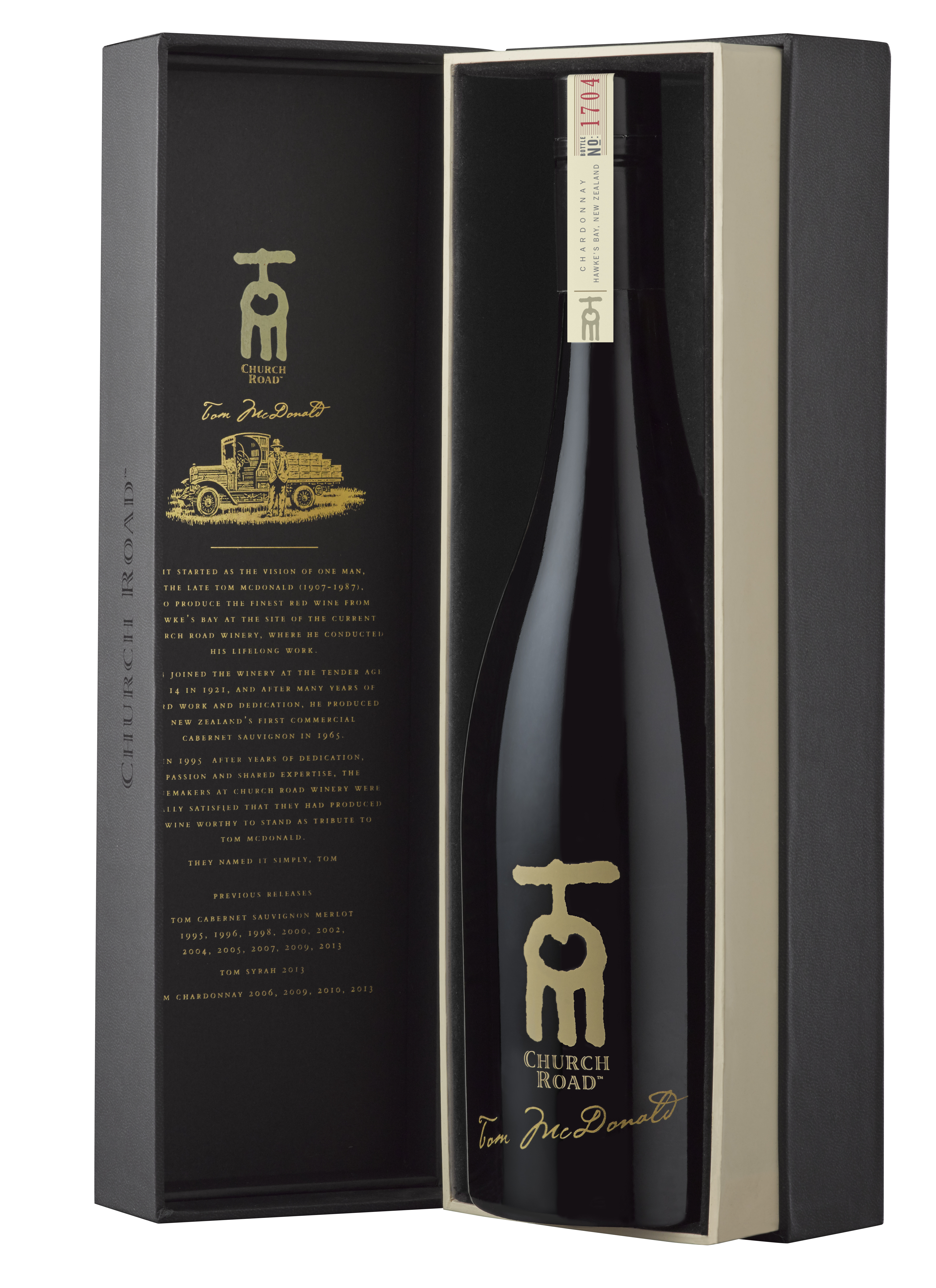 Ripe, rich and infinitely fragrant, TOM Syrah 2013 is a beautiful reflection of the exceptional vintage from which it was born. Layered with notes of dark cherry, berries and warm, exotic spice, it's a wine with great depth and elegance.