Enjoy the juicy sweetness and light spritz of Brown Brothers Cienna wine, chilled for the perfect summer sipper, matched with delicious dishes, or in this fruity Cienna Sangria cocktail

Designed to be enjoyed chilled, Brown Brothers Cienna is a refreshingly light wine with a vibrant ruby red colour and aromas of fresh red berry fruit and a hint of spice. Fruity and sweet to taste, it's rich and juicy with a refreshing light bubble to the finish.
A sip of this wine is like tasting summer berries in a glass, while the mixture of natural acidity and fruit sweetness leaves a refreshing sensation on the palate.
MEAL MATCHES
This light and fruity wine is the perfect partner to a wide range of dishes. Here are some of our favourites…
Match with a spicy hot pot and enjoy how the sweetness of the wine eases the heat of chilli and spice
Cienna's sweetness also complements the sweeter elements found in Chinese and Thai dishes
As we start to hit barbecue season, try sipping on a glass of chilled Cienna to complement sausages, lamb and grilled chicken. The perfect casual meal match
For dessert lovers, Cienna is a perfect accompaniment to crushed meringue and fresh mixed berries smothered in raspberry coulis
COCKTAIL TO TRY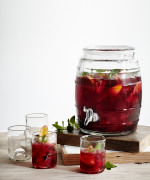 Cienna Sangria