Global Drink Wine Day was celebrated earlier this week. We say why limit it to one day when a whole week will do, especially when New Zealand has some of the world's best sauvignon blancs? You may think you know our country's top wine but we promise you'll learn something new with our guide to sav' heaven…
Words: Pip Patterson
The perennial New Zealand favourite, sauvignon blanc really comes into its own in summer, as its high acid backbone means it can be chilled right down low. Chilling a wine brings out its acidity, which in some varietals makes the wine unattractive to the palate. But for sauvignon blanc it's essential to have a crisp, clean finish – so chill away.
Crisp or full?
The important thing to remember about sauvignon blanc is that there are quite distinct styles of this varietal. If you prefer the crisper versions, then try wines from Central Otago. For a fuller mouthfeel, try wines from Canterbury, the Wairarapa and Marlborough/Nelson. North of these regions, the climate can be too hot and the wines can lack the acid backbone the varietal is known for.
Top tip: Current affair
Unless you know it's a special aged or oaked wine – which would be stated on the label – sauvignon blanc is best enjoyed when young and fresh. They are usually drinkable immediately on release, and a 2017 will be perfect right now.
Sav for non-savvies
Not all sauvignon blanc follows the common "herbaceous" style, with the green, capsicum and herbal flavours the varietal is known for. More tropical styles have been appearing on the market over the last 5-10 years, which makes for some super tasty wines liked even by previously "anti-sav" drinkers. Tropical-style sauvignon blanc tends to hail from Marlborough, particularly the Wairau Valley region. While the herbaceous style is preferred in international markets and what New Zealand sauvignon blanc is generally renowned for, it's worth trying the varietal again if you haven't previously been a sauvignon fan, as you might surprise yourself and end up agreeing that it's a perfect summer wine.
Food match
Sauvignon blanc marries well with many seafoods including shellfish such as mussels and oysters. The vitality and tanginess of this varietal also complements citrus, garlic and vinegar-based dressings, especially with crunchy summer salads.
Liquorland Picks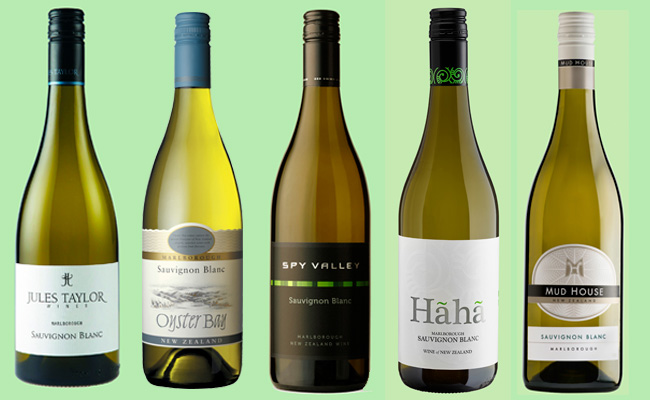 Above from left: Jules Taylor Sauvignon Blanc, RRP$22.99, Oyster Bay Sauvignon Blanc, RRP$19.99, Spy Valley Sauvignon Blanc, RRP$18.99, Hãhã Sauvignon Blanc, RRP$14.99, Mud House Sauvignon Blanc, RRP$14.99.