Winemaker Jules Taylor (from the brand of the same name) believes that wines are about creating great memories. We chat to her as she reminisces about the year that was.
It's been a funny old year for Jules Taylor. Like most of us, she has bounced from highs to lows and back again as quickly as from one daily press conference to the next!
One of the absolute highs was being awarded New Zealand Winemaker of the Year by a panel of industry experts.
"That came as quite a shock!", says Jules. "I had heard my name was on the shortlist, but I honestly never imagined they'd actually pick me to win the award!"
"It's a bit embarrassing really – I'm just the Godmother to all these tiny little grapes which, hopefully, will end up turning into something that, if used sensibly, will give people joy."
Have you seen an impact on the business since your award?
"It has been nice to see some more people discovering our wines and hopefully finding a new favourite in there. And I did get a call from an old school mate who had read about the award. I love that about our industry – it is great for bringing people together".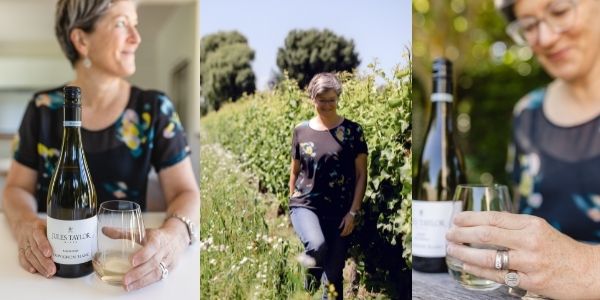 And what about the wines this year?
"Well the quality of the wines in 2021 was definitely a high – I just wish there was more to go around!"
2021 was a tiny vintage across New Zealand; unsettled weather earlier in the season meant the vintage was the smallest since 2015, despite considerably more vines being planted since then. But Jules remains upbeat.
"I can't think of a vintage that was more perfect, I didn't see a bad berry; the fruit was just so clean. And the flavours in the finished wines are just mouth-watering – they are so perfect."
The small vintage means that Jules is eagerly looking forward to 2022 and the next season. The vines are already hard at work, growing the next crop of her "godchildren"!
What do you hope the coming season will bring?
"I hope we see a bit more of a 'normal' harvest in terms of quantity. And I hope Covid doesn't disrupt things too much (well, too much more than it already has!).
I lie awake at night worrying about the impact it will have this year. I also really hope we see some of our restaurant customers getting back on their feet – it has been a really tough year for some of our friends out there, both in New Zealand and overseas.
Outside of work though, I'm really looking forward to packing my bags and going on holiday somewhere again!"
It is that refreshing optimism and joyfulness that comes through in every bottle of Jules Taylor wine. Jules firmly believes that wines are more about creating great memories and less about status or cellaring potential.