Moët & Chandon's special holiday bottle is the ultimate fizz for the festive season, especially with these great French serving and food matching ideas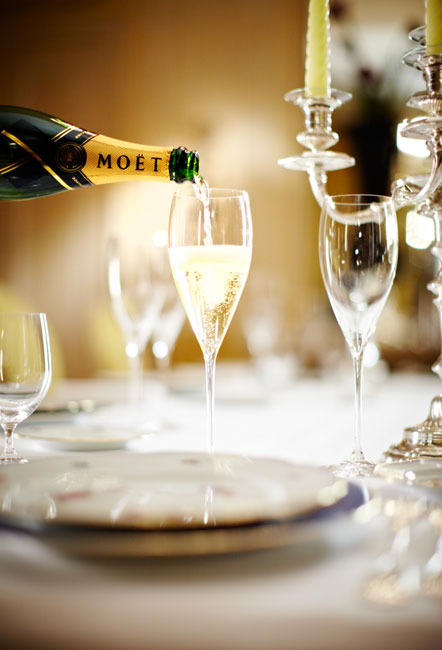 If you like your wine with a backstory, then Moët & Chandon Impérial is the ultimate. Created in France in 1869, this premium champagne was named after Napoleon, was one of the first brut (less sweet) style champagnes that are popular today, and was pivotal in the spread of French refinement to the world – particularly during the Universal Exposition of 1889, for which the Eiffel Tower was built.

THE CHAMPAGNE
Maison Moët & Chandon's iconic champagne, Moët Impérial is made with three grapes varieties, pinot noir, meunier and chardonnay, and has a signature impression of bright fruitiness balanced with moorish toastiness and an elegant bubble.
Aromas: tangy green apple, citrus fruit, fresh mineral notes, white flowers, brioche, cereals, fresh nuts
Flavours: white fruits of pear, peach and apple, with bright fruit notes of citrus and gooseberry
Finish: fine bubbles and a soft yet vivacious finish

HOLIDAY BOTTLE (and a little history)


Moët Impérial has been dressed up in an elegant French outfit for the 2018 festive season. The new holiday bottle features four iconic French symbols: the Orangerie – inspired by the Versailles palace and built in Epernay by Jean-Remy Moët in the early 1800s; a champagne pyramid of stacked glasses overflowing with champagne to represent Moët & Chandon's art of celebration; the Eiffel Tower – the eternal symbol of French luxury and craftsmanship at a time when Moët & Chandon's wines were served to the new world's elites; and the Arc de Triomphe – a symbol of French grandeur that was built in 1806 by Napoleon, who was frequently hosted by Jean-Remy Moët on his way to battle, no wonder Napoleon's faithful patronage gave its name to the flagship champagne of the House, Moët Impérial. RRP$54.99 at Liquorland

SERVING IDEAS
This festive season create your own celebration of the French art of living (read: great wine, incredible food, good company, a little elegance and some attention to detail)...
Create a champagne tower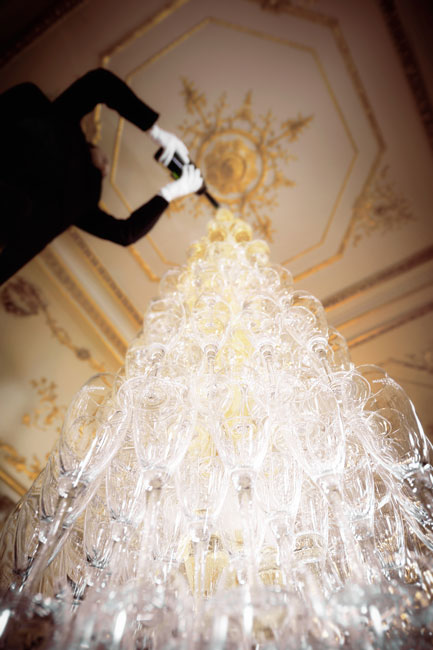 Building your own champagne tower is easier than you might think and this signature symbol of the house of Moët & Chandon is a great way to generate a bit of #socialenvy at your next gathering.

Party like it's 1869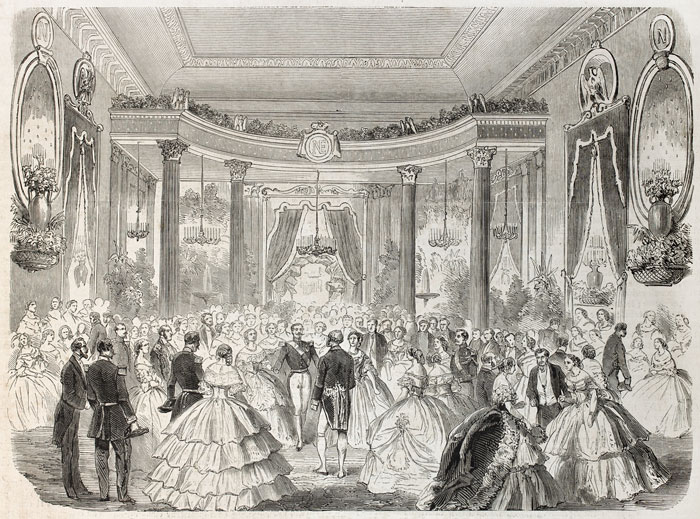 You might think Prince had wild ideas for a shindig, but they really knew how to raise it in the late 1900s. A quick peruse of The Royal Cookery Book: (le Livre de Cuisine) by Jules Gouffé, which was released in 1869 – the same year Moët Impérial was created, shows that partygoers weren't just drinking their bubbles. If you fancy the sound of Truffles Stewed in Champagne, Fruit Jelly with Champagne, Iced Champagne Granita with Strawberries and Roman Punch made with Italian meringue, rum, champagne and iced syrup, take a look on Google Books for the recipes. (Image: Emperor Napoleon III and empress at Grand Ball given by Duke of Bunrgundy in Dijon. Created by Godefroy-Durand, published on L'Illustration, Journal Universel, Paris, 1860)

Easy Food Pairings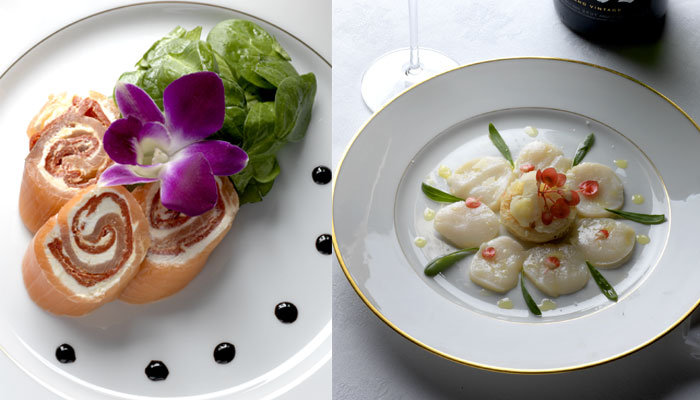 For something a little simpler and more modern, Moët Impérial can be enjoyed as an aperitif, with savoury dishes and desserts. Great pairings include:
sushi
scallops
smoked salmon
oysters
white fish
white meats such as chicken
white fruits including peach and pear

I'm So Fancy
Of course there's always the option to step it up with a dish that really drops the mic on impressiveness. Here's a recipe created for Moët & Chandon by three-time Michelin-starred French chef Yannick Alléno to perfectly flavour match with Moët Impérial…
DUBLIN BAY PRAWN RAVIOLI WITH ESPELETTE PEPPER AND TANGY BUTTER (Serves 4)

Ravioli
20 Dublin Bay prawns (also known as langoustines or scampi, or substitute with prawns)
40 Chinese egg ravioli sheets
1 egg yolk
Peel the prawn tails and remove the innards. Spread 20 ravioli sheets across the work surface. Brush the sheets with egg yolk and place a prawn tail in the centre of each sheet. Cover these with the remaining sheets. Cut these ravioli into circles using a biscuit cutter 6 cm in diameter. Place in the refrigerator.
Sauce and Presentation
1 bunch of chives
Espelette pepper powder (find at artisan food shops or substitute with paprika powder)
15ml water
15ml cream
125g unsalted butter
1 teaspoon lemon juice
½ teaspoon salt
Bring the water to boil with the cream in a saucepan and beat in the butter. Season and add the lemon juice. Keep warm in a bain marie. Snip the chives. Cook the ravioli in boiling salted water for three minutes. Remove. Drain. Arrange the Dublin Bay ravioli in soup plates and top with the sauce. Add a pinch of Espelette pepper and snipped chives to the top of each of the ravioli.