Spritzers are back in fashion as people look for low-alcohol options that still tick the taste box
Once popular in the 80s, spritzers went the way of so many things from that era (shoulder pads, blizzard jeans, legwarmers), yet unlike questionable wardrobe choices, spritzers are now growing in popularity again, as many of us search for lower-alcohol options.
The word spritzer has German-Austrian origins, where it essentially means to squirt, spray or inject something. Little wonder as the spritzer as we know it today means to add a dash of soda or sparkling water to a glass of wine, creating a fizzy, refreshing and low-alcoholic drinking option that's perfect for long social days and balmy nights.
Most commonly made with white or rosé wines, spritzers have retained their popularity across Europe, where they're also often made with reds. In Spain this is known as a tinto de verano – translation: "summer red". If you plan to go down this route, choose a low-tannin, fruity wine like a pinot noir or grenache. Now all you need to do is find a hammock in the sun…
TOP SPRITZER TIPS
Begin by filling a glass with ice, add the wine to taste (usually half the glass), pop in any other flavourings or liqueurs you want and top with fizzy water.
For a higher alcohol but equally refreshing Mediterranean-style spritzer, try adding a dash of bitters, Aperol, limoncello or Campari.
Garnishing with refreshing fruits and herbs will up the quench factor, so feel free to squeeze, muddle and decorate with lime, lemon, orange, grapefruit, raspberry, mint, thyme, and basil.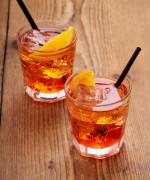 Aperol Spritz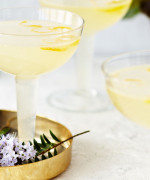 French 75