Whip up a hot toddy safely in these elegant Momento double-wall glasses from Stevens - perfect for a Fuji Hot Punch!
Elegant and functional, these Momento Cafe range double-wall glasses from Stevens are the perfect vessel for your warm winter cocktail. The double-walled glass is designed to keep your hot drink hot - and it prevents condensation from icy cold ones too.
Fill in the form to be in to win - and get some inspiration by whipping up this warming Fuji Hot Punch, made in this glass, for yourself!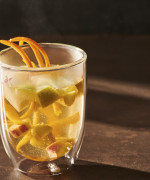 Fuji Hot Punch