We've got 10 Seedlip Starter Packs to give away – featuring three minis and expertly-matched mixers! Enter now!
Looking for a small gift or not sure which Seedlip expression is right for you? The non-alcoholic Seedlip Starter Pack includes three Seedlip minis expertly matched with East Imperial mixers.
Fill out the form below to win one of 10 Seedlip Starter Packs (pictured above)!
Discover the aromatic Seedlip Spice 94 (matched to East Imperial Grapefruit tonic), the herbal Seedlip Garden 108 (matched with East Imperial Yuzu lemonade) and the citrus Seedlip Grove 42 (matched with East Imperial Classic tonic water).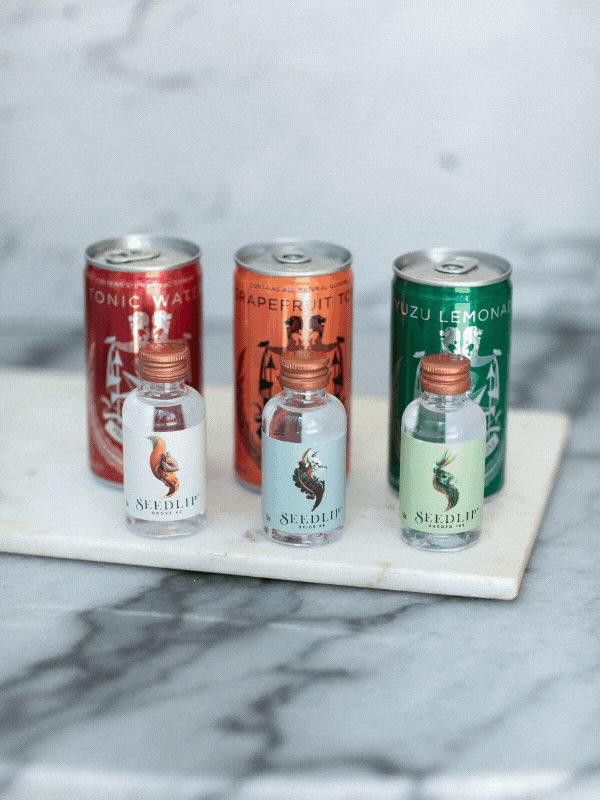 TASTE MATTERS
Seedlip Spice 94 - an aromatic and earthy blend of copper-pot distillates, including allspice, cardamom, lemon and grapefruit.
Seedlip Garden 108 - a green and floral blend of copper-pot distillates, including peas and hay and traditional herbs spearmint, rosemary and thyme.
Seedlip Grove 42 - named after the first use of the word 'orange' as a colour, in 1542, Grove is characterised by its citrus flavour profile with botanical distillates; lemon peel, three varieties of Mediterranean orange, ginger and lemongrass.

Seedlip's full size non-alcoholic spirits.