Alcohol should, of course, always be enjoyed in moderation; but there are some tricks to choosing cocktails that could have wider benefits
If you are truly on a health kick, then you're best off keeping your drinks virgin. However, there are some cocktail choices you can make that are better for you than others - here are some superfoods sneaking their way onto the cocktail menu.
Coconut water
Packed with simple sugars, electrolytes and minerals, this is a great ingredient for helping quench thirst and limit dehydration when drinking alcohol. Why not try coconut water and a twist of lime in a mimosa, or add a splash to your mojito.
Pomegranate
Loaded with antioxidants, Vitamin C and potassium, it's believed pomegranate can help lower the risk of heart disease and cancer, reduce cholesterol and fight cell damage. Try switching the bourbon for vodka in a Mint Julep, and adding a splash of pomegranate juice instead of soda water. Divine.
Avocado
If you've been following the raw food revolution, you will know just how versatile this fruit is. Make a mean, green margarita by combining the tequila and triple sec with avocado, agave nectar and a few coriander sprigs in a blender with some ice.
Cranberries
They contain a high amount of polyphenols for over all good health, antibacterial properties and anti inflammatory qualities, while also decreasing bad cholesterol. That should make you feel less guilty about ordering a classic Cosmopolitan.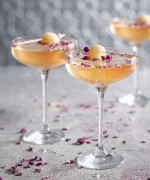 Mimosa with a twist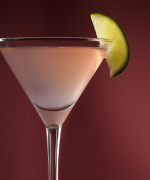 Perfect Cosmopolitan