Lift your lunchbox game by getting yourself in the draw to win one of five of Tasti's Raw Snacking Prize Packs containing a box of each of the four flavours
Here at Liquorland Toast we love nut flavours in many forms, with wine, beer, spirits and liqueurs like Frangelico (toasted hazelnut, vanilla and dark chocolate), Wither Hills Chardonnay (toasted almond and spices), Monteiths Golden Lager (cashew nuts) and The Glenlivet 15 Year Old whisky (almonds, hazelnut and spices) being some of our favourites, (see below for links to Click-and-Collect at Liquorland).
We also like a good bit of snack action, following Liquorland's 'Always graze while you liaise' ethos. Bursting with delicious, high quality dried fruit and nuts (plus some other tasty bits), Tasti's new and improved Raw Snacking packs are the ideal on-the-go snack whatever the occasion.
Each Tasti Raw Snacking Box contains:
Blueberry and Yoghurt: Packed with natural almonds, peanuts, cranberries, seeds, and coconut, plus a touch of dried blueberries.
Energy Trail Mix: An energy packed, moreish trail mix bursting with natural almonds, peanuts, seeds, coconut, dried fruit and delicious dark choc.
Superfood Boost: A delicious blend of superfood ingredients including goji berries, cranberries, natural almonds, walnuts, pistachio nuts and dark choc drops.
Berry & Nut Trio: A simple but tasty blend of dried berry fruits, natural almonds, peanuts and cashews.
This week Liquorland Toast and Tasti are giving five lucky readers the chance to try Tasti's Raw Snacking range by winning a Tasti Raw Snacking Box.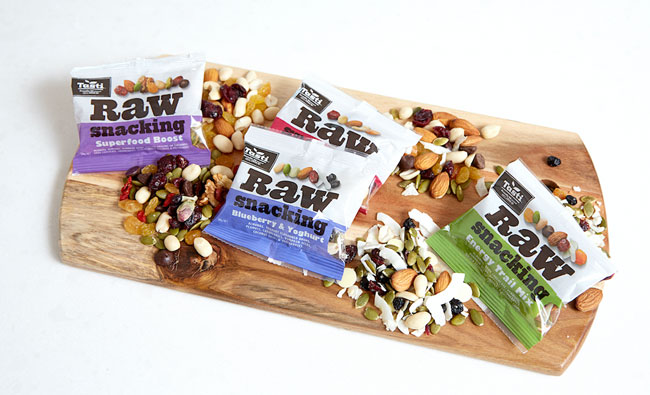 TO ENTER, click here