Gin is very much in this summer, and newcomers Bombay English Estate and Bombay Bramble are already proving a hit.
Bombay Sapphire has been a staple on many gin lovers' shelves for a while; now we are super-excited to share that the popular brand has added two new gins to their range that are perfect for summer.
Bombay Sapphire English Estate is a limited-edition gin inspired by the English countryside. They've infused the familiar citrus notes of Bombay Sapphire with Pennyroyal Mint, Rosehip and Toasted Hazelnut to make this a bright but delicate London Dry Gin of true English origin. Enjoy this Gin long with freshly squeezed lemon juice, tonic or ginger ale, lots of ice and a sprig of mint to capture the true essence of refreshment and the English Countryside.
Bombay Bramble is a bold new gin that's bursting with 100 per cent natural flavour of freshly-harvested blackberries and raspberries. It's a vibrant expression of the classic Bombay Sapphire London Dry Gin.
Bombay Bramble is best enjoyed simply with tonic, poured over ice and garnished with a squeeze of lemon. Perfect for the Summer season, the Bombay Bramble & Tonic is a sophisticated option for those that enjoy a touch of fruit flavour.
Which one will be your new summer G&T?
Check out this recipe for Yokohama Bramble, a shaved ice drink using Bombay Bramble that turns into a slushie as you drink it!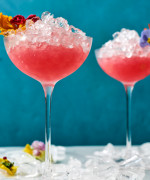 Yokohama Bramble