Transport your senses (well, predominantly your taste buds) to the Mediterranean with Gordon's new drop that oozes a stunning Summer.
Impress mates at your place with the orange-hued bottle: serve in a balloon glass, pair with soda and relax like you're in Southern Europe – provocative swimwear and sexy accent optional.
Gordon's Mediterranean Orange Gin is described as incredibly fresh, thanks to the zesty orange taste that perfectly complements gin's juniper flavours.
Trust us, Summer hasn't begun until you've tried this!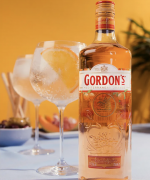 Mediterranean Orange Spritz