Celebrate the end of L4 lockdown with a fancy three-course dinner party for your bubble. Here are a few pairing suggestions and easy cocktails you can make with limited ingredients

Pairing your food with your wine is a tradition that dates back centuries, and matching your courses with your beer is very much a 'thing' these days too. But what about cocktails? Often relegated to a girls' night out or a sunset soirée with a loved one, cocktails can make great companions to many dishes, or a course in their own right.
Sumptuous starter
The tradition of serving a palate cleanser, or intermezzi course, originated in Italy. They often serve a refreshing, semi-frozen-but-not-too-sweet dessert before the entrée to clear the mouth ready for the meal, and slow the dining experience down.
Add a bit of zing to your dinner by serving an intermezzi cocktail. Fresh, neutral flavours like basil and mint work best alongside citrus. Sgroppino, a mix of lemon sorbet, vodka and prosecco is an interesting choice, or try a sorbet shot – a mix of grappa, limoncello and rosemary served in a very short glass. A grapefruit gin fizz, while a longer drink, could also work well.
The main event
The great thing about cocktails is that they can be paired with really unusual dishes you may not usually serve with wine. A French 75, for example, pairs really well with sushi or sashimi. Mexican food, often full of strong flavours that overpower wine, work perfectly with tequila cocktails. A Margarita pairs brilliantly with a burrito, and adds a touch of class to a street food-inspired meal.
The fresh and clean flavour of vodka-based cocktails make a great pairing for gamey foods, like venison, and smoked fish. Scotch-based cocktails, like a Rob Roy or a Rusty Nail, actually work nicely with Indian food.
Decadent desserts
If you are pairing a cocktail with a dessert dish, dial down the sweetness in one or the other. An Espresso Martini would work well with a Tiramisu, for instance, while a pear martini or Bellini would work well with a crème brulee. Don't shy away from the cheese board. Fruity rum cocktails compliment creamy cheeses well, while clean vodka cocktails can be happily served with richer cheeses like sheep, goat and blue.
Alternatively, why not go all out and make the dessert the cocktail? Play around with the ingredients in classic cocktail recipes to come up with an exciting dessert version. For example, you could swap out the ice cubes in your mint julep recipe for a scoop of high quality vanilla ice cream, or serve a mix of rum, ginger beer, mint, lime and bitters over crushed ice. Make a martini with a dash of apple liqueur and a sprinkle of cinnamon for an apple pie-themed dessert drink, or for an easier option, add a splash of Baileys to a cream soda float.
Here are some recipes to try: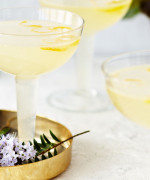 French 75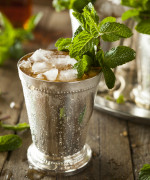 Mint julep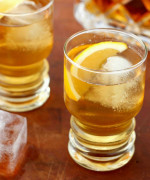 Rusty Nail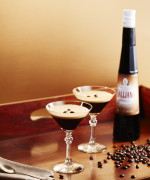 Galliano Ristretto Espresso Martini