An alternative name for Strange Nature Gin could have been Serendipity because, in trying to create one thing, its makers discovered something different – indeed serendipitous!
Marlborough winemaker Giesen was trialling ways to make zero-alcohol sauvignon blanc – never expecting the alcohol extract to have such a rich, herbaceous flavour that it would lend itself so perfectly to gin.
"I can remember the moment the serendipity hit me. In the pursuit of one thing, we found something else altogether," Kyle Skene, Strange Nature co-founder and group general manager of Giesen Group, says. "We never thought that the actual alcohol component we were taking out of the wine was going to taste so phenomenal.
"The global demand for no- or low-alcohol wine has rocketed worldwide, and Giesen was looking for ways to provide for that market without sacrificing flavour profile. Having made sauvignon blanc with 12.5% alcohol, it then put the wine through a spinning cone to gently heat it and remove the alcohol. Even in its rawest state, the flavour shone.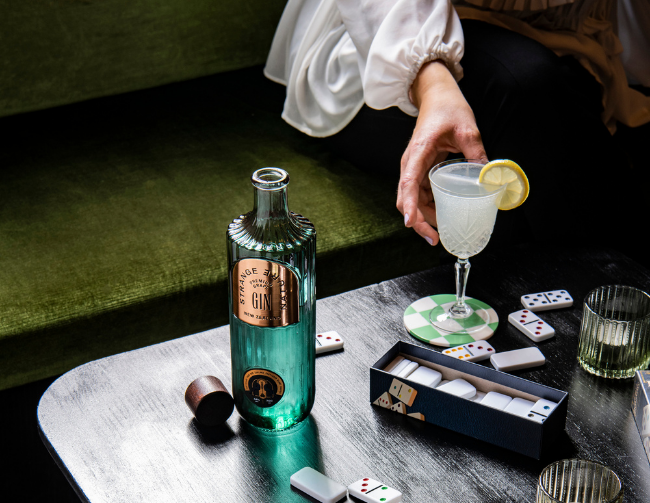 Finders keepers
When New Zealand went into its first lockdown in 2020, the Giesen team had discovered what they believed to be a phenomenal by-product, but they had to wait to experiment with it. "We were going to do vintage 2020, and we were introducing the words 'bubble' and 'social distancing' to our repertoire. At the same time, we were tasting the distillate for the first time and going, 'Wow, this is amazing.' It had quite a high alcohol, but it didn't taste of alcohol because of all the beautiful herbaceous Marlborough aromatics."
Giesen spent 18 months trialling different distillations with different botanicals, including kawakawa and cardamom but found the results quite muddled. Ultimately, the makers settled on what they believe is uniquely New Zealand – a grape-based gin with only one botanical, juniper. "That's because the product has so much flavour and aroma from the sauvignon. There is underlying pineapple and grapefruit, pepper and lime."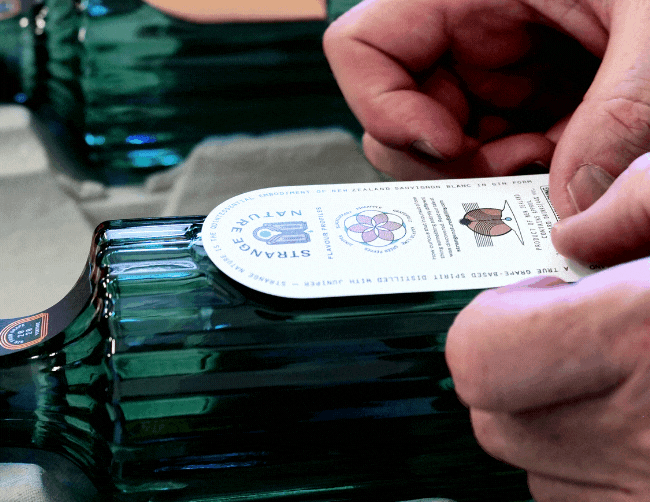 Message in a bottle
Recognising they had a distinctive gin, the Strange Nature team was adamant that the bottle design should also be exceptional. "We had a unique, high-quality product – we couldn't let ourselves down by just putting it into a stock-standard bottle. We had this amazingly unique story, but we couldn't stop there," Kyle enthuses. "We spent a lot of time on the bottle design, searching through lead light glass windows at salvage yards just to get the colour right." The copper-coloured disc alludes to copper gin distilleries; the top is a bespoke wooden topper with a natural cork stopper.
Grape expectations
Giesen has been making wine for 40 years and is accredited with Sustainable Wine-growing New Zealand (SWNZ) and BioGro New Zealand, meaning Strange Nature Gin can be traced back to specific rows in the vineyards. "With Strange Nature, there's a lot of provenance – most distilleries don't talk about where the distillate comes from; they talk more about the botanicals," Kyle says.
Strange Nature is also experimenting with the distillate derived from Giesen's recent foray into zero-alcohol pinot gris and merlot varietals to explore the potential of limited-release gins.
"There's a huge amount of potential for us to continue to be innovative and bring new products and flavour profiles," Kyle says. "The pinot gris doesn't have the same aromatic pungency the sauvignon has, but it has this amazing length of palate and mouthfeel and nashi pear." Strange Nature Gin launched in October 2021, and the business has set its sights on leveraging the international popularity of New Zealand sauvignon blanc.
"There's a big opportunity for us to take a New Zealand gin global. We have all these New Zealand sauvignon blanc drinkers – the US has over nine million cases of sauvignon sold, in the UK about seven million. In Australia, there are more than six. "I think that's a wonderful opportunity."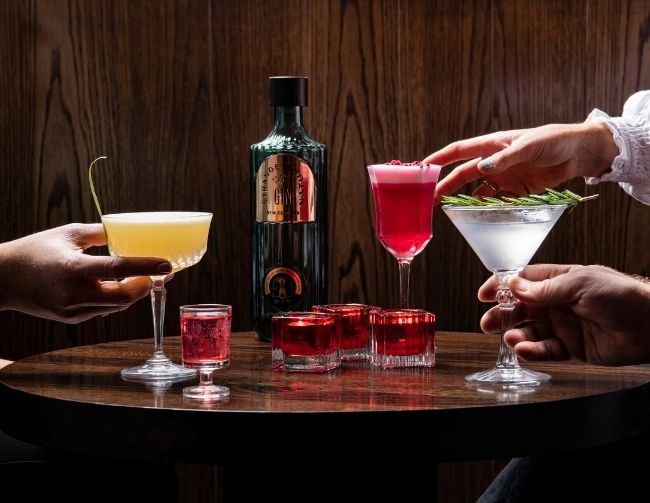 TASTING NOTES
As with all gins you're trying for the first time, sip it straight to get a sense of its flavour. Strange Nature has a sweetness, without the alcohol burn, so it can be sipped with just ice, like a whiskey, Kyle says. "It also mixes well with Fever Tree Mediterranean or Weirdly Normal Kawakawa Tonic. Some like it with soda water and a wedge of lime." Go to www.strangenaturegin.com for a range of cocktail recipes.