The world's first female master blender, Joy Spence, has a connnection with New Zealand that's as memorable and exciting as her Appleton Estate rums. Toast caught up with Joy at her home in Jamaica
When Joy Spence walks into her kitchen in Kingston, Jamaica, she is greeted by the words 'Tènã Koe Joy Spence; Welcome to Auckland!" The poster is one of the Appleton Estate Master Distiller's most treasured memorabilia from her years working her magic on the iconic rum brand.
"When people ask me about my amazing moments over the 40 years I've spent in the industry, my visits to New Zealand are probably number one," says Joy. Her fond memories of New Zealand include the time she was helicoptered to Bryant Glacier, where she drank her beloved Appleton's rum with a piece of glacial ice. Another time, while in New Zealand on holiday with her husband, the pair decided to go on a boat ride to look at a sanctuary in Cathedral Cove. "We went to a restaurant for a drink and lunch after the ride, ordered our Appleton's and when I went up to sign the credit card receipt, my husband asked the staff member if he recognised the signature, and pointed to the cap of the Appleton's bottle. The whole place went crazy, taking photos and welcoming us."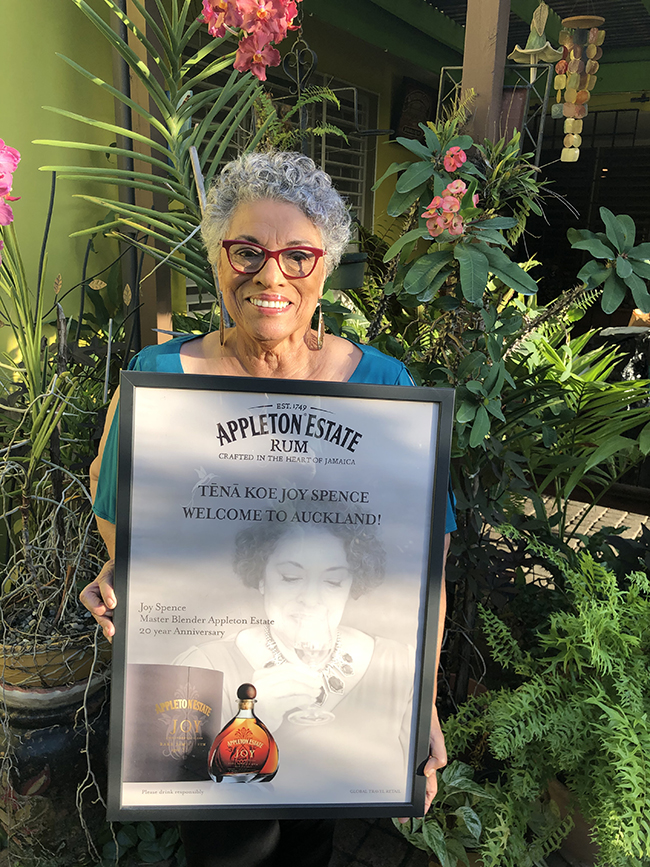 Joy's scientific credentials are impressive. She fell in love with chemistry at the age of 13, and dreamed of becoming a scientist. After graduating with a Bachelor of Science degree from the University of the West Indies, she spent a few years teaching chemistry before moving to England to pursue a Master of Science degree at Loughborough University, where she graduated with the highest ever achieved by a student at Loughborough. In 1979 she returned to Jamaica, where she became a university lecturer in analytical chemistry, before joining Tia Maria as a research chemist.
"I was there to develop new products, but I have to multitask or I become bored, so I was sent next door to the Appleton Estate distillery to help out and keep me occupied!" she laughs. "I'd look over the fence and see the tankers rolling in, and so much going on – I really wanted to work there. At the time they didn't have any vacancies, but a few weeks later they created the position of Chief Chemist for me. People thought I was crazy, as I was moving to a job with a much lower salary, but I loved the challenge."
It was here that Joy met Appleton's then-Master Blender, Owen Tulloch. "Thanks to Owen, my whole world changed," she says. "He helped me discover my talent for understanding the flavours and expressions; the ability to detect, identify and differentiate between aromas." Over the next 16 years, Joy learned from the master, honing her sensory skills and using her technical chemistry expertise to make what became premium rum.
In 1997, she made history by becoming the world's first female master blender. "At the time, people didn't think women could blend, but actually, women are very detail-oriented, which is needed in rum-making. Machines can analyse the volatile aromas in spirits, but nothing matches the human nose for immediately identifying flavours: too much vanilla, a little more ginger or nutmeg, or coffee or cocoa."
Thanks to Joy's unique blend of art and science, Appleton Estate is renowned globally as a premium rum, with its famous fruit-forward expression, aromas and flavour notes of dried apricot, fresh peach and a subtle hint of sweet molasses. "In the early 80s, rum was mixed with cola or juice – no-one thought about the possibility that rum could be premium, like whisky or cognac. I understand the fundamentals of chemistry, and I studied fermentation, the barrel ageing process, and what happens when you put them together in a sensory way," she says.
As with all premium spirits, location is key to a successful product. "Jamaica has a unique geography, with many micro-climates; we have beautiful hillsides, rivers and waterfalls. It's a magical place - and Jamaicans have an enormous passion for rum. You can feel the love of us in every bottle," says Joy.
While plenty of people use Appleton Estate rum to make delicious cocktails the world over, surely the one which says it best is Joy's very own Joy's Cocktail (see below), which showcases the rum's natural flavours to extraordinary effect. "I wasn't given a mandate to create a cocktail – I did it on my own because I wanted something easy people could make at home. The Appleton Estate Reserve Blend has a special orange note, and Angostura bitters pulls out the complexity of flavours. I topped it with ginger ale and cracked ice, and realised it was delicious."
Over the course of this year, New Zealand can expect a few more surprises from Appleton Estate, says Joy. "I can't say too much, but let's just say we have some barrels waiting for a very special moment…"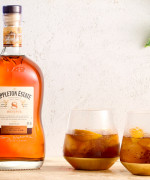 Joy's Cocktail