A long-distance romance led Sarah and Ben Bonoma to a new life in paradise, and a passion for creating world-class gin!
Unless you're Abel Tasman himself, Golden Bay isn't a place you'd find accidentally. By land, the only access is through the steep winding road on Takaka Hill, the 'marble mountain' that links Nelson to this north-west corner of the South Island. The mountain still carries evidence of the devastation caused by ex-Cyclone Gita in February 2018, where huge slips wiped out swathes of the pass, leaving Golden Bay residents stranded, but this only adds to the rugged beauty of this breathtaking part of New Zealand. And it's in this tiny area that Ben and Sarah Bonoma, owners of the multi-award-winning Dancing Sands Distillery, are producing some truly remarkable gin, vodka and rum.
Sarah, a Brit, and American Ben, first bonded in a New York bar over gin martinis, blue cheese and olives. After managing a long-distance relationship for a year, the pair decided to move to New Zealand, where they could be together. In August 2013, they arrived in Wellington with five boxes of clothes, and a dream to one day create their own business.
On arrival, Sarah became Head of Data with Contact Energy, while Ben worked as a director for Price Waterhouse Cooper. But corporate life was never the long-term plan. "When we moved to New Zealand, we had this feeling that anything was possible," says Sarah, who juggles parenting two children – Mia, five, and two-year-old Zoe – with Ben, while they take turns at the distillery. "We'd always talked about building our own business from scratch, and although we looked at other options, like craft beer, cheese and some other food options, we knew from the UK and US markets that craft distilling was really taking off." So when Ben saw a distillery in Golden Bay for sale on TradeMe, the pair decided to take a chance.
"Mia was 10 weeks old when we first came down to check it out – we knew nothing about distillation," says Sarah. "There was a lot of work to do, but we could see the potential." While Sarah continued her Wellington-based job for another six months, Ben moved to Golden Bay, where he focused all his energies on making, tasting, evolving and learning the art of distilling – and discovered a previously-undiscovered talent for creating gin flavours brought alive by the very special local water after which Dancing Sands Distillery is named.
"The purity of the spring serves as inspiration for everything we do. It's an incredible gift, which is why we named our distillery after it," says Sarah. But water alone doesn't make prizewinning gin – and that's where Ben comes in. "In New York, he had this tiny Manhattan apartment, and never cooked; until we came here, we had no idea he had such an amazing palate. He is behind every flavour, and we have hundreds of bottles full of experiments. It's my job to narrow them down or else we'd have hundreds!"
Although the Bonomas inherited several barrels of rum with the distillery (some of which are still in barrels), first past the post and into stores was the Original Dry Gin. Made with manuka, peppercorns, cardamom, almonds, liquorice root, angelica and coriander seed, the gin is based on spice flavours rather than traditional citrus. Next came the Barrel Aged Gin, which is aged in two barrels – half of it in the spent rum barrels from the original distillery, the other half in French oak. "We didn't know how it would turn out, but thought the idea was cool," says Sarah.
Since the first Dancing Sands bottle was sold in October 2016, the distillery now produces vodka, white rum, aged rum and six gins: Original Dry, Barrel Aged, Sun-Kissed (strawberry and rhubarb), Saffron, Wasabi and Chocolate. All the drinks are made in a single 150-litre still, and all drinks are naturally brewed, are vegan friendly, preservative-free and contain no artificial flavours.
As with any new business, there has been successes and learnings. "The day we discovered molasses behaves differently in the still to water, for example; that one led to the entire distillery covered in sticky molasses that took days to clean!" says Sara. Another was the first iteration of the popular Sun-Kissed Gin, in which fresh strawberries and rhubarb were added directly into the mix, resulting in more of a smoothie than an alcohol. But after winning multiple awards at the 2020 New Zealand Spirits Awards, including a Double Gold for their Navy-strength (58%) Wasabi gin, the pair and their small team are continuing to grow and thrive.
"We're continually adding flavours, and Ben's happy place is in the distillery kitchen, playing with ingredients and coming up with more ideas," says Sarah, who can often be found running tastings in the distillery's tasting room for tourists and locals. "We now sell throughout New Zealand and overseas, including to the UK, America, Canada, Japan, Singapore and Hong Kong, and the orders are still coming in. We know we've pretty much outgrown our small distillery, but Golden Bay will always be our home, and the home of our gin."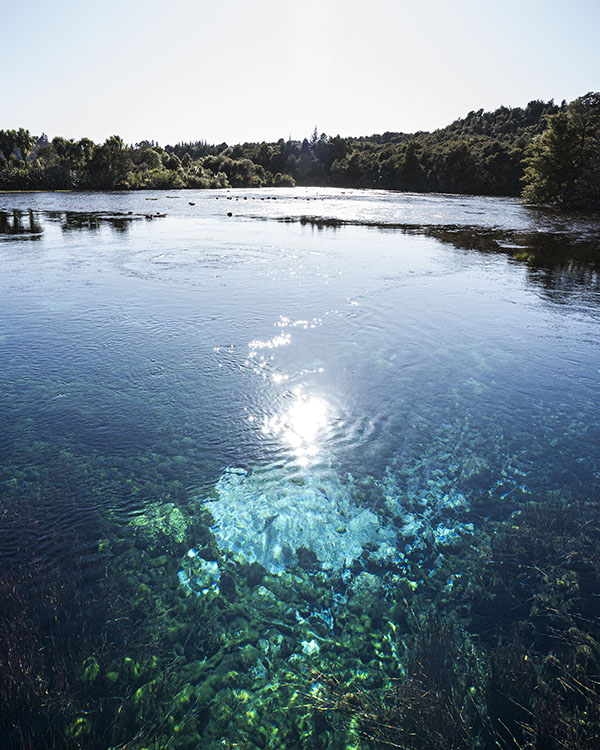 The Dancing Sands Spring at Te Waikoropupu Springs is the clearest spring in the world with under water visibility of up-to 81 metres. It pumps water at 14,000 litres per second – that's the equivalent of filling 2400 baths a minute - at 11°C. Up to ten years of filtering through the surrounding rock means that the water surging out of the multiple springs is so pure and clear that the only thing obscuring your view of the various plant species carpeting the bottom, more than ten metres below, is the fabulous blue tint of the water.