With all this time at home right now, why not summon up a little cocktail magic? Head to your kitchen and you might just find some flavour-fuelled alchemy hiding in its depths
A simple syrup is a bit of a foundational tool in in mixology. Basically, all it is is sugar and water simmered together over a low heat until melted and combined, usually in an equal ratio (1:1). So you can make a big batch or a small, as long as you keep your ingredients in proportion. For a thicker, sweeter syrup use a 2:1 ratio, or for a thinner, less intense sweetness use a 1:2 – the choice is yours depending on your palate. And it's not just white sugar: brown, raw, honey, golden syrup and agave syrup can all sub in, adding their own unique qualities. Just bear in mind you might need to play with ratios as different sugars are more intense than others. Taste as you go.
A simple syrup is only the beginning, though: enter flavoured syrups, a simple syrup infused with an ingredient. And, happily, these ingredients can often already be found in the pantry, fridge or garden without a special trip to the supermarket. From herbs and spices to fruits and teas, the possibilities for flavoured syrups go on and on.
As a basic rule, all you have to do is add the flavouring ingredient while simmering the syrup. Leave it to cool to let the flavour develop further, then strain out any solids. And the good news is syrups can last for a couple of weeks in the fridge in a sealed bottle or jar.
Once you've made a flavoured syrup, you can start experimenting with more than one flavouring – citrus and chilli, earl grey and lavender, or cinnamon and coffee are great combinations for example. Add a complementary alcohol, perhaps a mixer – soda water, milk, juice or tonic – and a fresh garnish, and a home bartender extraordinare you will be!
Fruity friends
Have some tinned fruit in the cupboard? Don't throw away its juices – these make an instant syrup shortcut. The syrup from a tin of black doris plums, for instance, goes great with whisky and lemon and a splash of soda or try the syrup from a can of lychee with some fresh ginger and pair it with vodka and soda. Or get creative with your own combination.
Lots of jam in the fridge? Heat it up with water and strain for instant jam-flavoured syrups. Fresh and frozen fruit too can be combined with water and sugar for a fruit infusion. Berries lend themselves particularly well to a syrup.
Liquid lovelies
Brew up some earl grey tea bags with water and equal parts sugar or honey on the stove and leave it to cool for an aromatic tea syrup. Delicious served in a tall glass with gin, lemon and ice. Fruit teas are also easy to turn into syrups and chamomile too makes a lovely base, pairing particularly well with apple flavours. Or brew some strong coffee and then add sugar and leave to simmer for a coffee syrup – coffee syrups work best with dark spirits and work well, obviously, paired with milk as a mixer.
Citrus sensations
Both the juice and peel of citruses can be used to make syrup – squeeze the juices and boil up with water and sugar and drop in the peels towards the end of the simmering time. Leave to cool and then strain. Don't forget the leaves – kaffir lime leaves especially make a lovely aromatic syrup. Lemongrass too lends itself well to a syrup. Combine the latter two to make an especially fragrant number that is delicious in a martini, or mix it with gin or vodka and soda for a long refreshing drink. Fresh mint works well in there too.
Spicy spirit
Use one or a combination of spices such as cinnamon sticks, star anise, cloves, peppercorns and cardamom seeds to flavour up some sugar syrup to add to a warming cocktail. Or try fresh ginger and chilli for a spicy hit. Ginger syrup added to soda water can replace ginger beer or ginger ale in many cocktails.
Essential extracts
Add a vanilla pod, extract or paste to a simmering syrup for some sweet vanilla notes. Suggestions: brewed and cooled fruit tea, vanilla simple syrup, a squeeze of fresh citrus and vodka on ice. If you have other extracts, such as almond or peppermint, you could add these to a simple syrup at the end of simmering time for some interesting flavour benefits.
Herbal and floral friendships
Hard herbs, such as thyme and rosemary, make delicious syrups. If you use soft herbs such as mint or basil, it's a good idea to add it to your hot syrup just before or just after you've turned the heat off and leave to infuse while cooling as these herbs don't do as well in a longer cooking process. Lavender flowers and rose petals (make sure it's an edible variety) too can be made into syrups, adding a floral bouquet particularly lovely with lighter spirits and/or bubbles. Alternatively, add a couple of drops of rosewater or orange blossom water to a simple syrup for a subtle floral hit.
We've included some cocktails below that use syrups to give you an idea of quantities and flavour pairings – feel free to extract the syrup part of the recipe to use with whatever spirits you have and get inventive!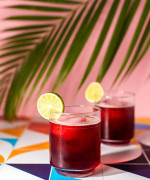 Mexican Sunset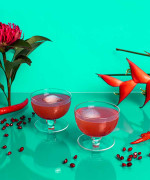 Spicy Pomegranate Sour
Night Vision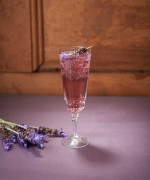 Lavender Spritz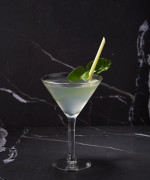 Lemongrass and Lime Martini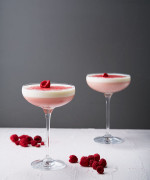 Raspberry gin-ger lassi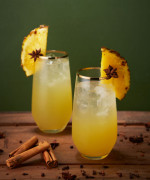 SPICED PINA COLADA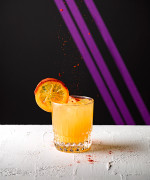 CHILLI AND BURNT ORANGE OLD-FASHIONED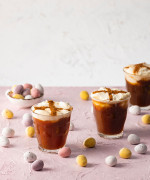 Hot Cross Rum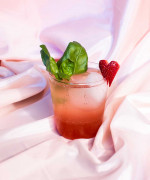 Strawberry Shrub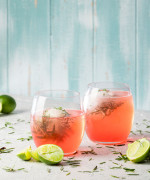 Paloma Twist