Let's face it, rum is yum, but have you branched out with a spicy one? Joss Granger from Liquorland Howick takes a look at our growing taste for spiced rum and the best ways to drink it
Our rum tastes are evolving. Kiwis have gone from sticking strictly to dark rum and the occasional splash of white, to experimenting more with golden varieties and, of course, spiced rum.
What do I need to know?
If you're new to this exotic, warming spirit, one of the most important things to know about it – and one of the great things about trying it – is that every brand offers something a little different.
While most brands will contain a mix of spices and flavours, such as vanilla, cinnamon or nutmeg, sometimes with orange or clove mixed in, each different spiced rum will have its own unique recipe or spice blend, and they're usually a closely guarded secret. If you're a rum fan, it's worth trying two or three different brands over time, to figure out what you like best.
How can I use it?
You can substitute spiced rum into any traditional rum recipe. The spices will add extra dimension to the flavour. Try warming it gently on the stove and drink topped up with boiling water. Or mix Sailor Jerry spiced rum with apple cider, sliced oranges, cloves and cinnamon sticks in a pot and heat gently – it's a great alternative to mulled wine.
Spiced rum is also perfect for using in cooking. Substitute it for traditional rum if you're making classics such as rum balls, or rum and raisin ice cream.
Can you recommend a good brand?
If you're a newcomer to spiced rum, you could start by trying Captain Morgan Spiced Rum. It's reasonably priced so you're not splashing out before you know if you'll like it. For the aficionado, I'd definitely recommend Sailor Jerry. It's a brand that has a huge loyal fan base overseas and is really growing in popularity here. Plus, it has really cool packaging!
Captain's orders
Another spiced rum, another classic nautical name. Try Captain Morgan's spiced rum blended with butterscotch schnapps in a shot glass for a smooth yet spicy pick-me-up. Another idea, is to try a Long Island Spice Tea. Find it in related recipes below.
For a simpler option, opt for the new Captain Morgan Spiced Rum and Cola RTD poured over ice with lime.
Hello Sailor
Distilled in the Caribbean, where the rum industry sprang to life beside the sugar industry almost 400 years ago, Sailor Jerry, has developed a cult following among drinkers serious about the quality of spiced rum.
Sailor Jerry is crafted from a selection of rums "married" by master blenders to an exacting recipe. It is then infused with a one-of-a-kind mix of spices and other natural flavours, most notably vanilla and a touch of cinnamon. The result is high-quality, old-school spiced rum. An enduring classic, not a fly-by-night fancy.
Try it mixed simply with cola or lemonade or for something different try the Dark and Stormy made with one part Sailor Jerry over ice, add a dash of angostura bitters, top with ginger beer and garnish with lime.
For something warmer, see the related recipe below.
Go check out this video about the product – Liquorland Likes ... SAILOR JERRY RUM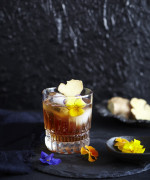 Spiced Ginger Cocktail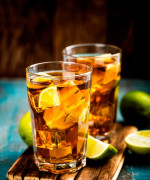 Long Island Spiced Tea