Crafted at New Zealand's most awarded distillery in the heart of beautiful Golden Bay, Dancing Sands Sun Kissed Gin has an adventurous feel and a gorgeous pink blush that's all natural
Has pink gin had its moment in the sun?
Judging by the current crop of sophisticated, high-quality pink gins gracing our shelves this summer, we highly doubt it.
Standing tall and strikingly vibrant among them, Dancing Sands Sun Kissed Gin offers a refreshing take on the category.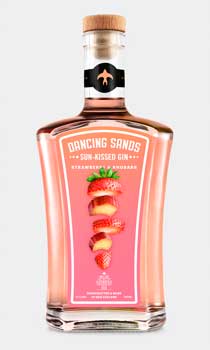 The magic begins with fresh ripe strawberries and tantalisingly tangy rhubarb, which are candied and infused with dry gin for a burst of summery sweetness. Add in classic layers of cardamom, coriander and peppercorns, and you've got an aromatic gin that's very easy to drink – and even easier to fall in love with. Add a splash of colour to a cocktail, pour your favourite mixer, or simply sip slowly and savour each flavour in this wonderfully complex gin.
In addition to using locally sourced fruit, the Dancing Sands distillery draws water from the clearest spring in the world – Te Waikaroropupu Spring – to give Dancing Sands Sun Kissed Gin unrivalled purity. It's a place of endless summers, rugged landscapes, windswept beaches and sparkling seas, and you can almost taste it.
The Dancing Sands team work in 150 litre batches for maximum care and quality control. They're hands-on distillers who choose to focus on taste, temperature and touch over automation and large-scale production.
The result? Summer in a bottle.