Created by a collaboration of Australian mixologists, bartenders and artists, Untold Rum is a premium, aged, golden rum with natural spices that's causing a stir
When you come across a new spirit that's been created by mixologists and bartenders – the kind of people who know a thing or fifty about making great drinks – you know it's going to be good.

Untold Spiced Rum is the brainchild of four renowned Australian bartenders, Dave Kerr of Melbourne bar The Beaufort in collaboration with Nathan Beasley, Oscar Eastman and Dre Walters. The guys were looking for a rum that was less sweet than the usual, but something balanced enough to work with mixers and in cocktails like the Untold Gala made with apple and fresh lime (see below for recipe).
"One of our greatest achievements was creating something that balanced spice, sweetness and then finished with a delightful savoury note to steer it away from the sickly-sweet rums that dominate the market, yet still keeping its authenticity," explains Oscar Eastman.
The resulting spiced rum is made with natural orange oil, cinnamon, clove, vanilla and Scottish peat smoke, and is a distinctive, full-bodied, full strength spiced rum. Untold is also available in a range of premixed spiced rum drinks – Untold Spiced Rum & Cola, and Untold Spiced Rum & Ginger Beer that are sure to become firm socializing and summer favourites. The bottles and cans feature colourful urban art created by Australian-based Kiwi illustrator Andrew Archer and Australian graffiti artist Tim Phibs.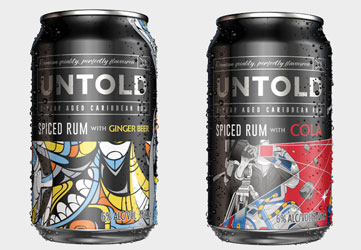 Untold Spiced Rum, RRP $54.99, 700ml. Untold Spiced Rum & Cola, and Untold Spiced Rum & Ginger Beer, RRP $12.99, four pack 355ml.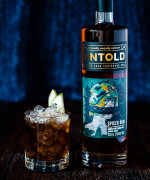 Untold Gala