Still can't get enough of the pink gin trend that's been sweeping the globe? Read on to discover your new rose-tinted gin crush (and the perfect hot weather refresher)
This time last year we brought you news of the New Zealand launch of a Mediterranean gin that was changing the way we consumed this delicious aromatic spirit. Larios Gin is made in southern Spain with tons of local citrus fruits and herbs and has clean flavours and delicate hints of orange, lemon and grapefruit. Read more about Larios here.
Now you can get your hands on Larios Rosé, a new pink gin that combines the brand's iconic Mediterranean hints of citrus with the intense juicy flavours and aromas of strawberry. Available at Liquorland, $49.99 1L
Here's the best way to enjoy Larios Rosé Gin – especially in this gorgeous summer heat we're experiencing right now!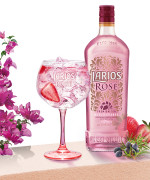 Larios Rosé Perfect Serve