The weather's getting warmer so we're dusting off the barbie early, just in time to organise those game-time get-togethers. Here, we take a look at the best cuts for the grill and what to drink with your dish
If you love the taste of meat burned over fire, then you will be interested to know that enjoyment comes from actual science - and so pairing your drinks should be based on science too.
The Maillard reaction (named for French chemist Louis-Camille Maillard and pronounced 'my-yar') is what happens when protein-rich foods (hello, steak!) come into contact with high heat. It's a chemical reaction between amino acids and sugars, and this is where we get that magical flavour: essentially umami – a satisfying savoury depth. Pockets of fat and bits of skin create extra magic.
For years the humble beer has been the barbeque staple, and we're not saying a good pils or hoppy IPA isn't a valid choice. But if you want to impress your friends with your new scientific knowledge, why not wow them even more with your expertly selected drinks.
Cuts and cups for the BBQ
You need about half a pound of meat per person, so if it's a big crowd coming over, go for value with burgers. Homemade burgers are best, as you need to control the meat to fat ratio – more than 20% fat and you risk too much shrinkage and flare-ups on the grill.
What to drink? Burgers are in danger of being a little boring, so pair them with some full-flavoured cocktails, like a Negroni.
The great thing about sausages is the mix of flavours. Whether you go for straightforward supermarket pork, or pop to your local butchery for some handmade delights infused with lemon grass or paprika, you can meet the needs of a selection of tastes
What to drink? Sausages can be fatty and salty, so the clean taste of a gin and tonic cuts right through the grease, and the acidity evens out the flavour.
Steak is a kiwi fav – jazz it up by choosing Silver Fern Farms venison medallions. The rich, gamey flavour requires no seasoning, just rub with olive oil and flick it on the grill.
What to drink? Venison has a nose that matches perfectly with Scotch. Go for a peaty Islay, like Ardbeg 10yo malt whiskey.
Ribs are a BBQ classic. Marinade in a rich hickory sauce or paprika flavours with a citrus zing, sure to be a crowd-pleaser.
What to drink? Build on those smoky flavours with a bourbon. Jim Beam Devil's Cut incorporates the flavours from inside the wood of the barrels giving it a bold and oaky finish.
The unsung hero of the BBQ is chicken. Mediterranean style skewers with tomatoes and capsicum will win over even the most finicky guest. Make it extra special with a yoghurt dip.
What to drink? 42 Below Feijoa Vodka is unique with a citrus, sweet-yet-tart finish.
Top tip: Infuse wood chips with bourbon before putting them to work in your barbeque or smoker to add a touch of magic.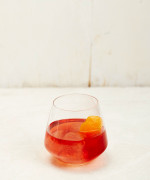 Negroni