The story of everyone's favourite cream liqueur begun with three key components – Irish whiskey, cream and a keenness to capture Ireland in a bottle
On the rocks, in a cheesecake, over ice cream – Baileys is one irresistibly versatile liqueur.
What is Baileys?
It's the brainchild of the tenacious former chairman of Gibleys of Ireland, David Dand, who decided that women deserved a better range of drink. It was also a sure-fire way to get noticed in the ever-expanding international alcohol market.
David and his team started playing with ingredient combinations in 1970 but after four years of experimenting, they still couldn't get the whiskey and cream to bond without separating.
Luckily, David bumped into a generous ice cream executive. He gave David access to technology that would put an end to the splitting for good.
By 1974, Baileys Irish Cream had hit the shelves and at the perfect time, too. Women were finally getting to showcase their fierce independence, and people were spending the big bucks on eating and drinking.
In its first year alone over 600,000 bottles were shipped and by the third year, 300,000,000 set off to be enjoyed by people in all corners of the globe.
How is it made?
This is the niggly part. In order to stop separation, pure Irish whiskey and cream are homogenised using an emulsifier (the reduction and even distribution of fat globules – not as gross as it sounds) until they reach emulsion. Herbs and sugar are then added.
The recipe itself is top secret, with only a handful of people knowing what exactly goes into the delicious concoction.
Why should I drink it?
Baileys Irish Cream is always taking flavour innovation to a new frontier. Whether it's Salted Caramel, Hazelnut, Coffee or the latest Chocolat Luxe.
Try it in our Hot Chocolate with a Kick or check out their irresistible range of cocktails, hot drinks and desserts.
Fast Facts
While there's been a lot of speculation about the name, 'Baileys' was inspired by the Baileys hotel in London – Gibleys of Ireland thought it was a neutral name that most nationalities would be able to pronounce without getting too tongue tied.

Baileys only uses milk from happy Irish dairy cows – 40,000 of them. Together, they produce over 250 million litres of whole milk per year.

82 millions bottles are sold annually to 160 different countries.

It is estimated that 2,300 glasses of Baileys Irish Cream are drunk around the world every minute of every day.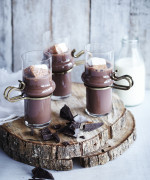 Hot Chocolate with a Kick