Chase Bickerton from Bombay Sapphire talks trends, tips and why he thinks the classic G&T is such a timeless beauty
What do you think are the biggest trends at the moment in the world of mixology?
Cocktails are having a huge moment in general, which is really exciting. We're seeing everything from a focus on doing the basics right to a rise in using quite complex, interesting ingredients, incorporating seasonal, organic produce, and using them to create modern versions of very classic drinks.
Pairing cocktails with food is also a trend that's gaining momentum – increasingly we're seeing people pick cocktails over your typical glass of wine with a meal at a restaurant and that's something we're really excited about. Consumers are really thinking about what it is they're drinking, what flavours will complement what they're eating, or what suits the occasion, rather than reaching for the easiest drink or what they've always had. There has been a real shift in perception and more and more I see consumers listening to bartenders' recommendations and treating them like the professionals they are.
The classic gin and tonic seems to be so timeless, why do you think this is?
The G&T is a simple, refreshing cocktail that adapts to any occasion and is so easy for anyone to make at home. I think that's really the key to its timelessness – it's just so uncomplicated and the flavours work beautifully together. People keep coming back, and always will, because a G&T tastes sophisticated, but can be thrown together in minutes.
What are your top tips for perfecting a classic G&T?
Most importantly, you need the right gin and a quality tonic water. Don't bother mixing your premium gin with a mass-produced mixer, because the sugars will mask the notes and flavours of the gin. Bombay Sapphire London Dry Gin pairs particularly well with a premium tonic water like Quina-Fina. Add a squeeze of lime and you're away – or for a more modern take on the G&T, add 15ml of St Germain Elderflower Liqueur to your classic G&T.
And finally, make sure you use plenty of ice and serve immediately!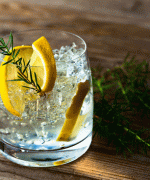 Perfect G&T