Dia de los Muertos is celebrated at this time every year in Mexico. Here's everything you need to know about it and how to celebrate (with tequila, of course)
WHAT IS IT?
Dia de los Muertos, or Day of the Dead, celebrates the circle of life by honouring the lives of loved ones who have passed. Every year Mexico's most beloved and cherished holiday is celebrated from 31st October culminating on 2nd November with parties, drinks, dances and parades, plus a top-notch el Jimador Tequila cocktail at the centre of celebrations.

ESSENTIALS FOR A DAY OF THE DEAD CELEBRATION

Ofrenda (altar) – an ofrenda is built to honour the memory of ancestors and guide the spirits home to celebrate with the living.
Mementos – pictures, favourite foods, drinks, candles, flowers, and personal mementos are placed on the altar.

Marigolds - orange marigolds are sacred and used to remember those who have passed, their bright hues and strong scents beckon dead souls to the ofrenda.
Calacas Y Calaveras (skeletons and skulls) – skulls are used to symbolise death and reincarnation and traditionally appear as candied skulls, masks, and marionettes portrayed enjoying life. Authentic sugar skulls are made out of molded sugar and colourfully decorated with the name of the deceased relative written on the skull's forehead.

Face painting – during the festivities face painting symbolizes that everyone is equal in the end.
Music – lively music awakens the dead from their eternal slumber to join the community in celebrating life. Listen to traditional mariachi folk music or create a themed playlist by searching for "Day of the Dead" or "Dia de Los Muertos" on your favourite streaming service.
Tequila, of course! El Jimador tequila is the number one selling 100% agave tequila in Mexico, so we reckon it's the perfect spirit for celebrations. Try it in a Paloma (recipe below) for a simple and refreshing cocktail this Day of the Dead. El Jimador Blanco and Reposado tequilas are available at your local Liquorland store.

TOP DAY OF THE DEAD COCKTAIL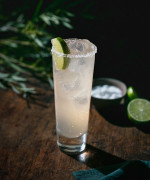 Paloma