Discover the history of gin's favourite bedfellow and the tonic water that's been the ultimate reviver since 1783
Sodas are storming right now, but the first artisan tonic water was actually created in 1783, by a trendsetting craftsman in Switzerland.
Jacob Schweppe was an entrepreneur and inventor who was the first to discover how to produce drinks with bubbles in them, pioneering sodas. The first-ever Schweppes sodas were such a big deal they were exhibited at the Great Exhibition in London in 1851, and granted a Royal Warrant by the Queen – it doesn't get more artisan than that. Pictured below: Jacob Schweppe, left; the original Schweppes 'skittle' soda bottle

Still made with quinine from natural sources, today Schweppes Indian Tonic Water remains the classic partner to the perfect gin, providing a crisp, bitter balance and the ultimate afternoon or pre-dinner refreshment.

Classic Schweppes G&T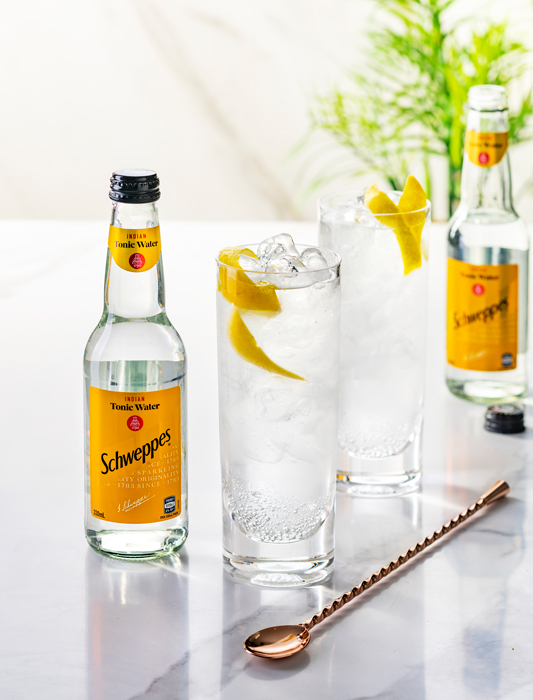 Enjoy the original tonic water in the ultimate gin and tonic. Serves 1
30ml Larios 12 Gin
330ml bottle Schweppes Indian Tonic Water
citrus peel, to garnish
ice
Add the Larios 12 Gin to a tall ice-filled glass and top with the bottle of Schweppes Indian Tonic Water. Twist your slices of citrus peel to release the oils and drop into the glass. Find a warm shady spot to while away the afternoon, preferably with a few roaming peacocks.